You might be familiar with the different analysis we conduct around key media events of the games industry, such our regular E3 and gamescom media coverage analysis.
We have in the past used the same tools to help games companies better understand their PR actions and identify ways for them to improve their reach. I have been meaning to build a simple case study to illustrate this type of analysis and today we are releasing a case study on the media coverage of Nier: Automata.
Why do this case study?
The modern media landscape is evolving very quickly. With these changes, we see new media emerging, and we are also in a better position to measure and understand the impact of specific communication efforts.
However, there are not many benchmarks around to compare performance of these actions. By building a case study, albeit around a popular game, this is a first step towards providing reference points in that field.
Why using Nier: Automata for this?
We wanted to study a game that has been a clear success, with a significant volume of coverage across multiple territories to have statistically relevant numbers.
We avoided titles that have been so successful at securing coverage that anything we would have uncovered would be useless to anyone as it would have been a "black swan", unique on its own.
I had selected a few potential titles, and I let Twitter decide:
https://twitter.com/icotom/status/888049917482160128
What was the methodology used?
We used our internal Media Monitor, a tool used for many of our PR intelligence missions and related blog posts. You can find details on the tool over here: https://icopartners.com/2014/06/pr-monitoring-working/
The report is short and to the point – it looks at how well different beats performed for Nier: Automata, from an online media coverage perspective.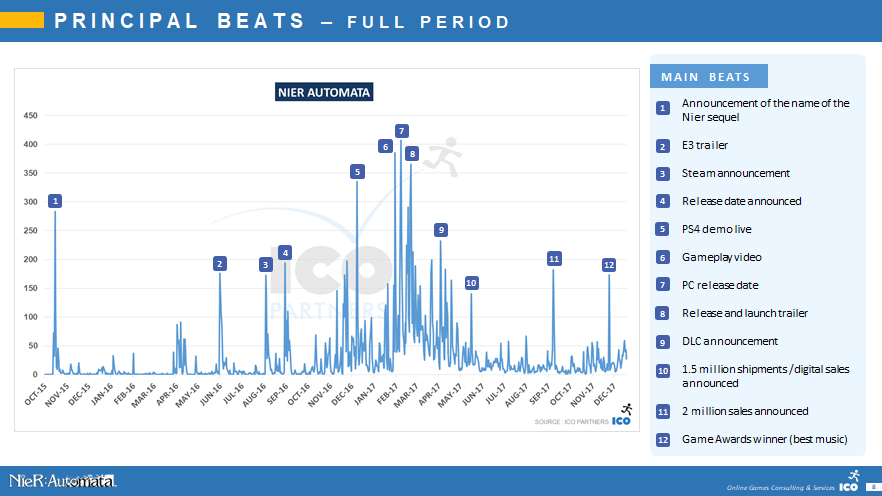 And we compared Nier: Automata to a handful of games that seemed relevant because of their genre and their release window.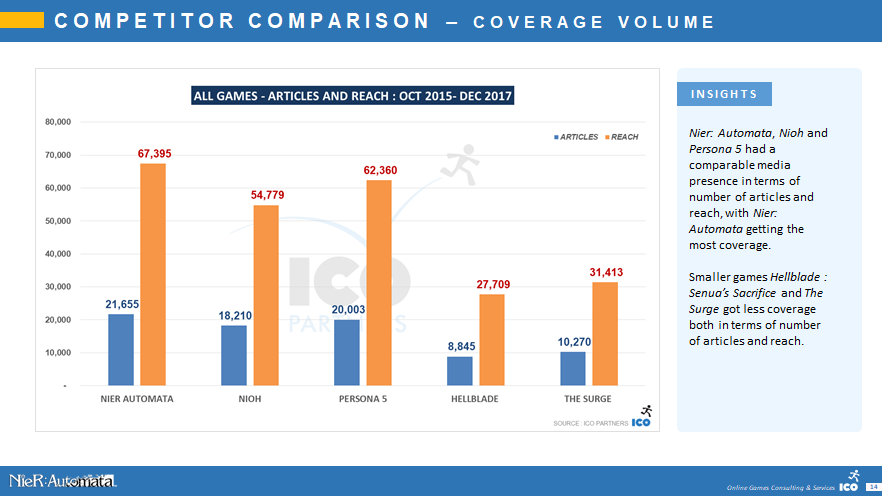 The report is free to download on Gumroad – and you can find it and our other reports in the Publication section of the website.
https://icopartners.com/newblog/wp-content/uploads/2018/05/Media-Coverage-Case-Study_blog.png
256
710
Thomas BIDAUX
https://icopartners.com/newblog/wp-content/uploads/2020/04/CRUSHCREATIVE_ICO_BRANDING_LOGO_NavyWhite-01-e1586189748878.png
Thomas BIDAUX
2018-05-01 17:26:07
2018-05-01 17:26:07
Media Coverage Analysis - Nier: Automata Case Study