Media Coverage Case Study – Nier: Automata
FREE (incl. VAT)
A deep dive in the anatomy of a AAA games PR campaign and its online media coverage
About
The modern media landscape is evolving very quickly. With these changes, we see new media emerging, and we are also in a better position to measure and understand the impact of specific communication efforts.
However, there are not many benchmarks around to compare performance of these actions. By building a case study, albeit around a popular game, this is a first step towards providing reference points in that field.
Why using Nier: Automata for this?
We wanted to study a game that has been a clear success, with a significant volume of coverage across multiple territories to have statistically relevant numbers.
We avoided titles that have been so successful at securing coverage that anything we would have uncovered would be useless to anyone as it would have been a "black swan", unique on its own.
Excerpt
Excerpts
The report looks keys beats of the Nier: Automata campaign and look on how well each one performed.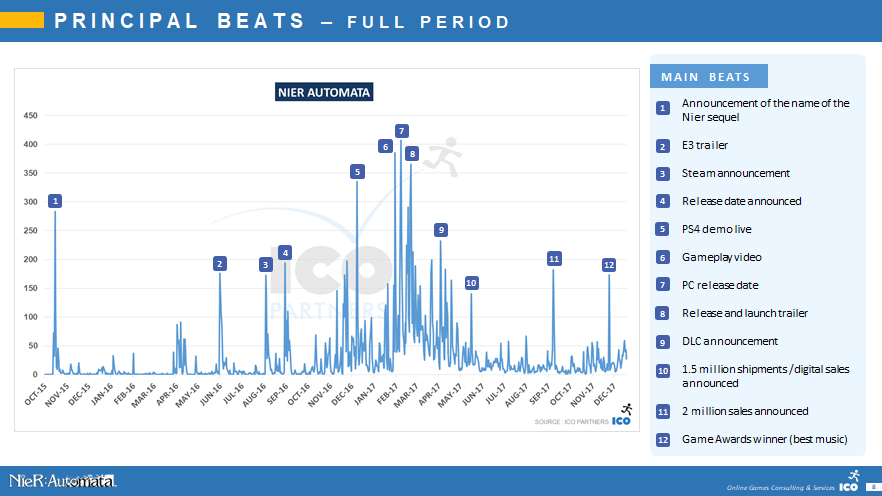 In order to provide extra context to the campaign, the report also looked into 4 competitors to the game:
Nioh. Action/RPG on PS4 published by Koei Tecmo released Feb 2017 (and PC in Nov 2017)
Persona 5. RPG on PS3 and PS4 published by Atlus released Apr 2017
Hellblade : Senua's Sacrifice. Action on PS4 and PC published by Ninja Theory released in Aug 2017
The Surge. Action/RPG on PC, PS4 and Xbox One published by Focus Home Interactive in May 2017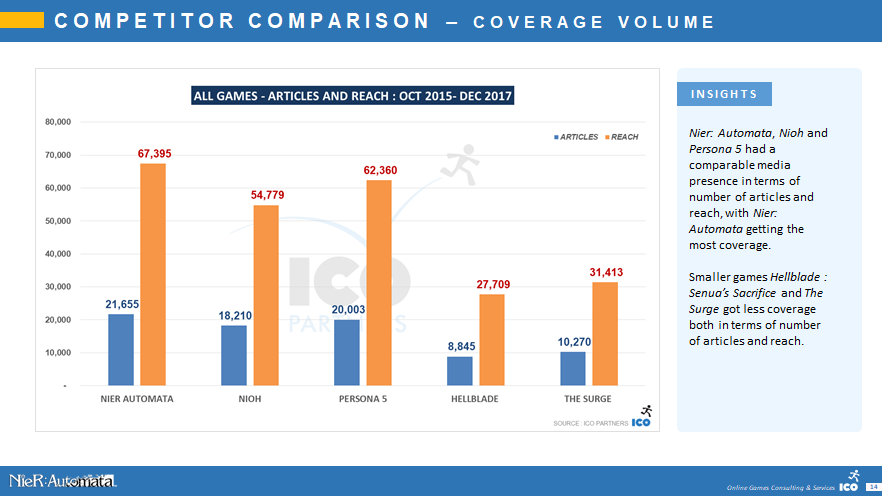 Table of Contents
PURPOSE OF THE CASE STUDY
EXECUTIVE SUMMARY
MAIN BEATS – HIGH LEVEL DATA
COMPETITORS COMPARISONS
ANNEX
METHODOLOGY