As promised, this is the second part of me looking at the past year and Kickstarter, this time looking at games and only games. It might help for a more general context to have a read of the previous post on Kickstarter as a whole for last year. Like in that article, you can find a fairly substantial deck with slides at the end for you to look at all sorts of numbers on that category.
The Games category
Overall, last year was really a good year for games on Kickstarter. As we saw, it was one of the 3 categories that really pushed the growth of the platform.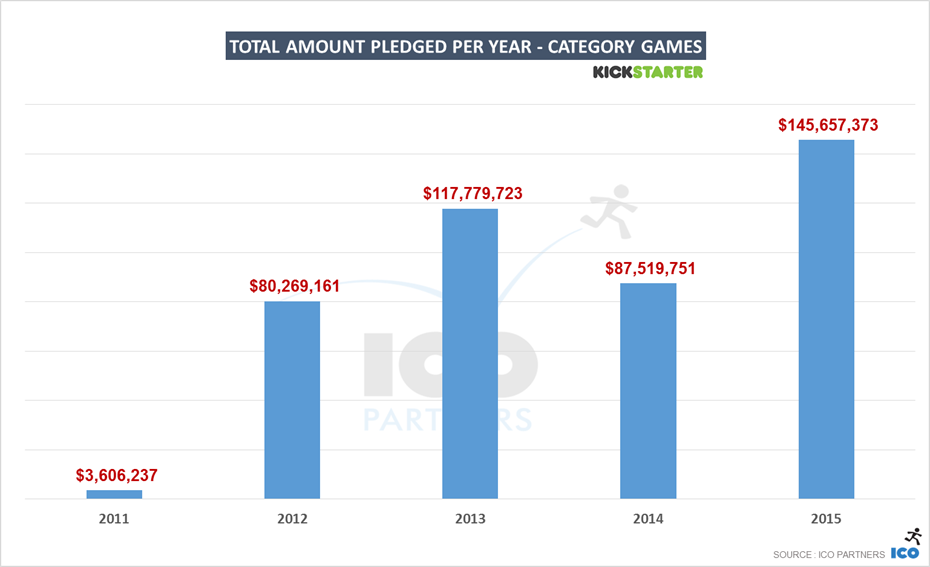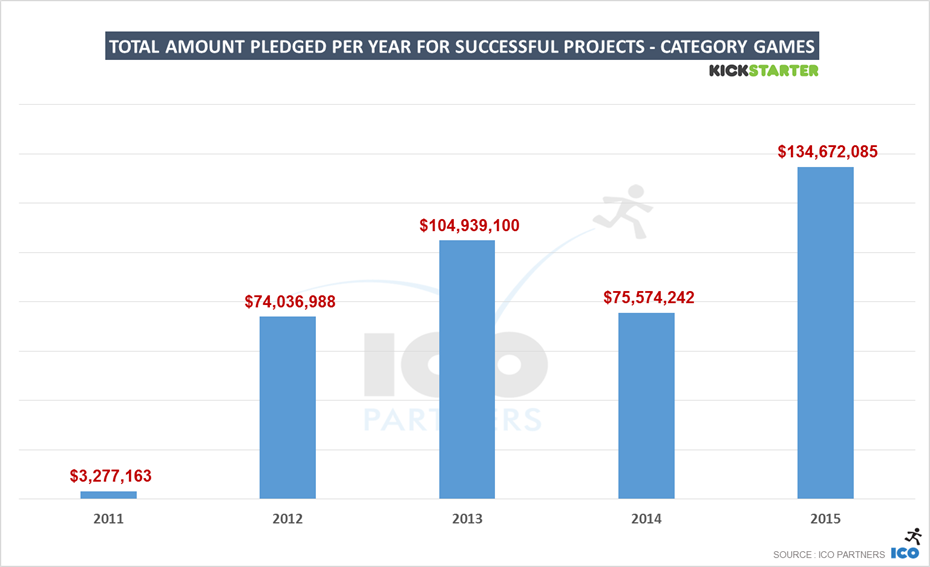 From a financial point-of-view, the Games category raised 78% more money than in 2014. And even compared to the previous record, 2013, this is a 30% increase. All around, a very strong year in that regard.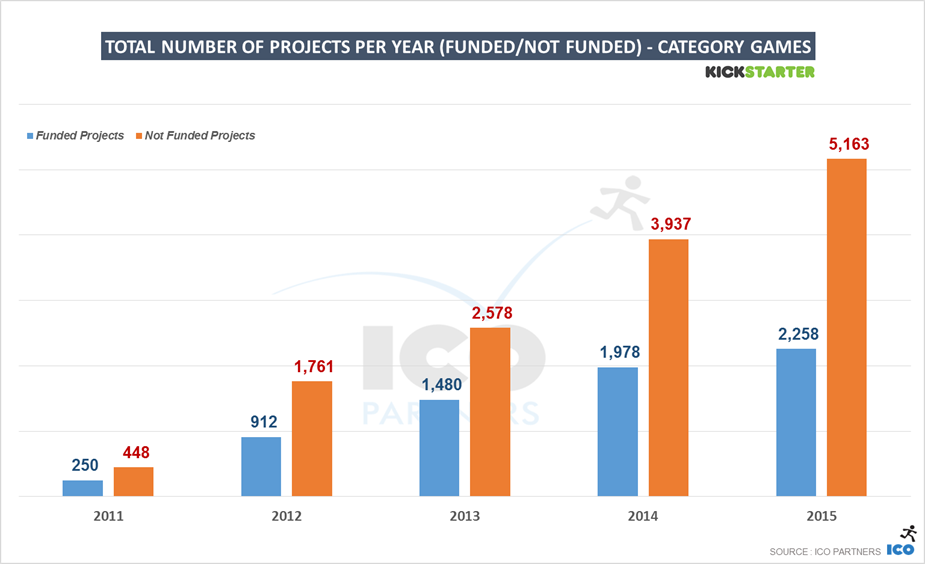 What is also very good is that the total number of projects that got funded is also increasing. The growth is of 14% from the previous year. The total number of projects itself is growing much faster, but again, that's in line with the trend across the board on the platform, and the fact that the growth of funded projects doesn't follow at the same pace is not necessarily a bad thing – the quality of projects is not necessarily there to justify it.

It is also an healthy sign that the financial growth happens across the tiers. It is easy for a few very large projects to carry that growth all by themselves, and while they obviously play a big role, they aren't the only reason.
The only Tier that stayed flat is the $100k-$500k one, which is also the only tier with fewer projects than the previous year: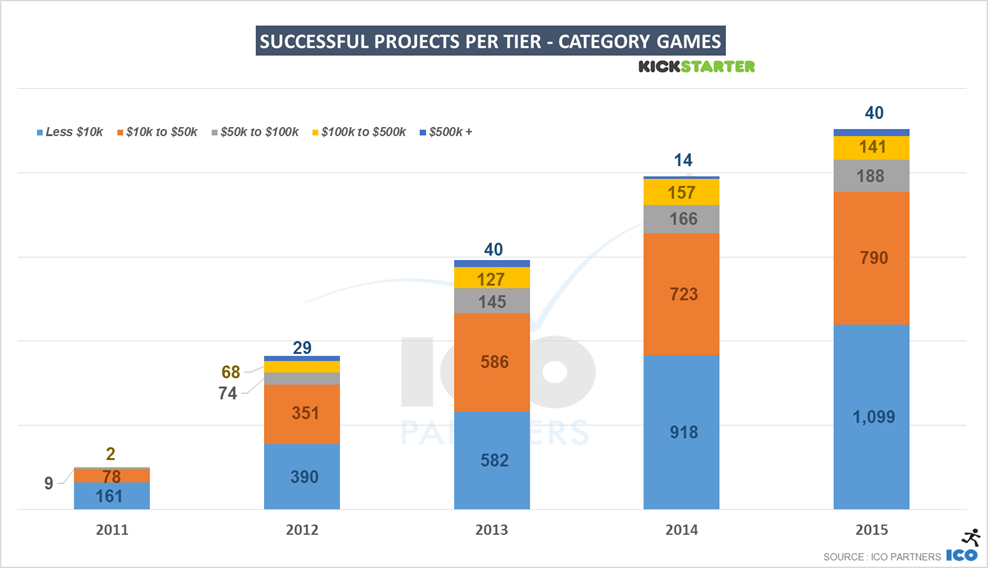 I am going to look at the subcategories more in detailes. I have decided to do this in 3 parts, following the size they all represent: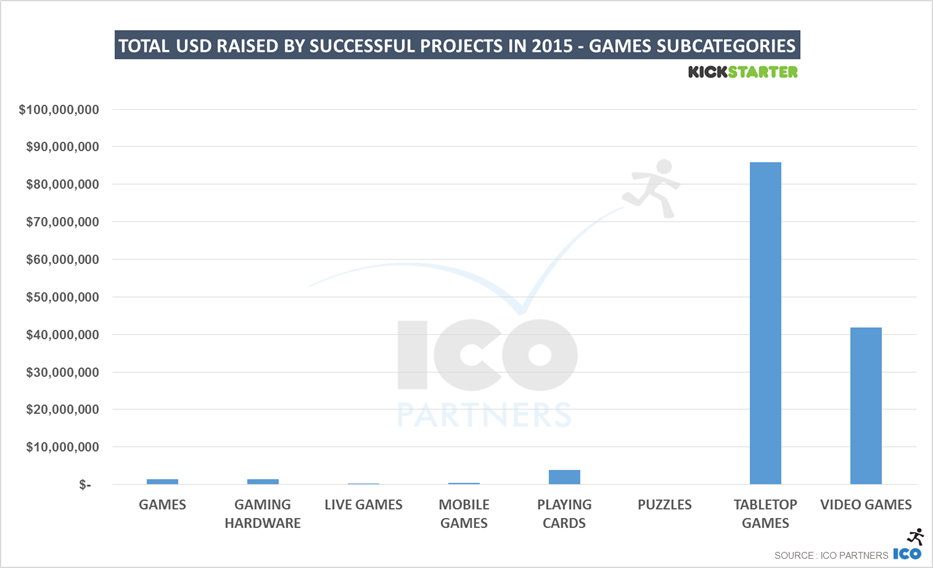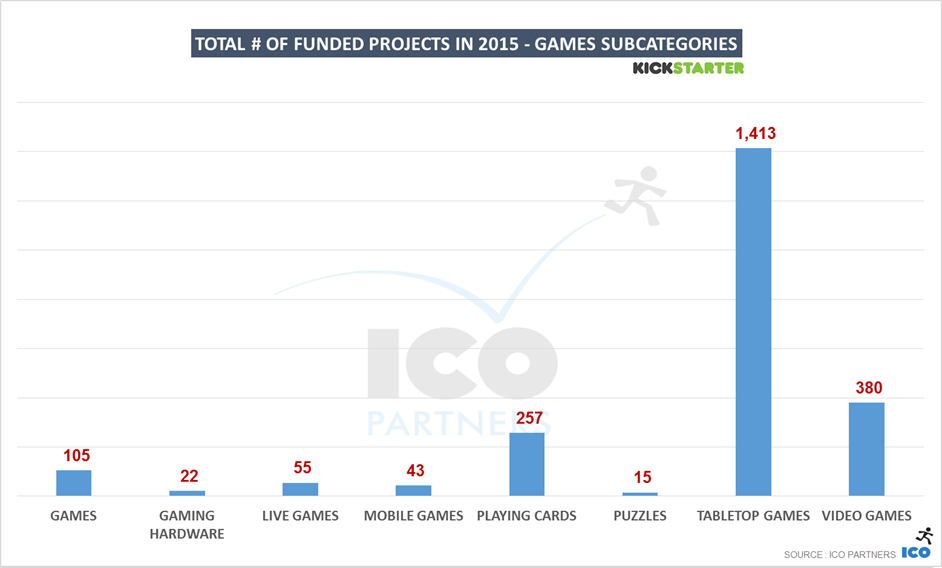 I will do a quick overview on Games (the generic subcategory), Gaming Hardware, Live Games, Mobile Games, Playing Cards and Puzzles, before delving in Tabletop Games and Video Games, each one having its own part.
Smaller subcategories
The struggles of Mobile gaming
The Games, Gaming Hardware, Live Games, Mobile Games, Playing Cards and Puzzles subcategories, all taken together, represent 497 funded projects for last year, and $7.5m raised. That's 22% of all the Games category funded projects and 5.5% of the money raised there.
It doesn't mean those subcategories are not interesting, there are many things happening around them still.
The Games subcategory is a bit of pot-pourri, gathering all the odd projects that the other subcategories didn't represent properly, in the mind of the creator. There are a surprisingly high number of Pen & Paper roleplaying games in there, despite being usually associated with Tabletop Games. There is not much to say on the trends in that regard. It seems that the addition of more subcategories that happened in 2014 has reduced the number of "orphan" projects that were ending there.
Gaming Hardware is very interesting. When it was added in 2014, Kickstarter retroactively applied it to a few projects, including the OUYA and the Oculus Rift. leading to this: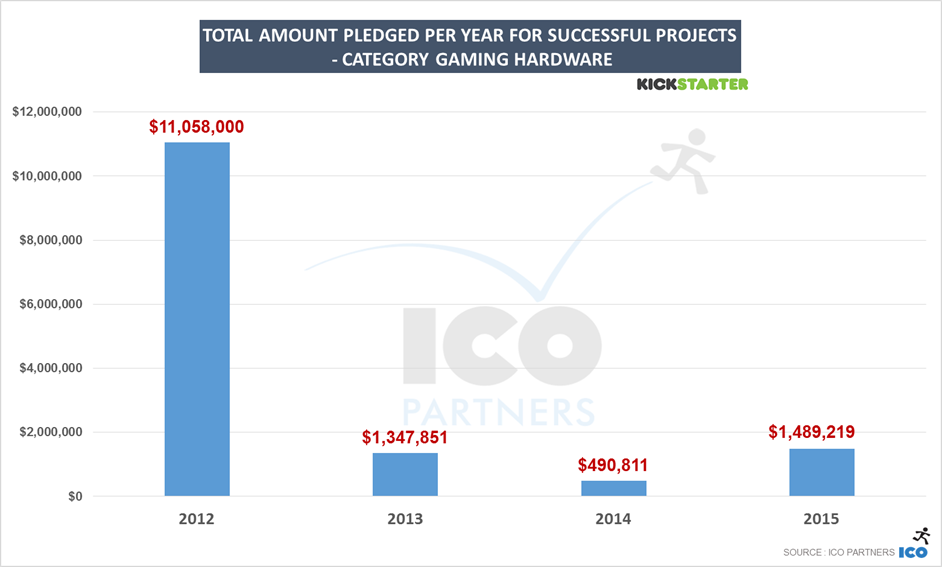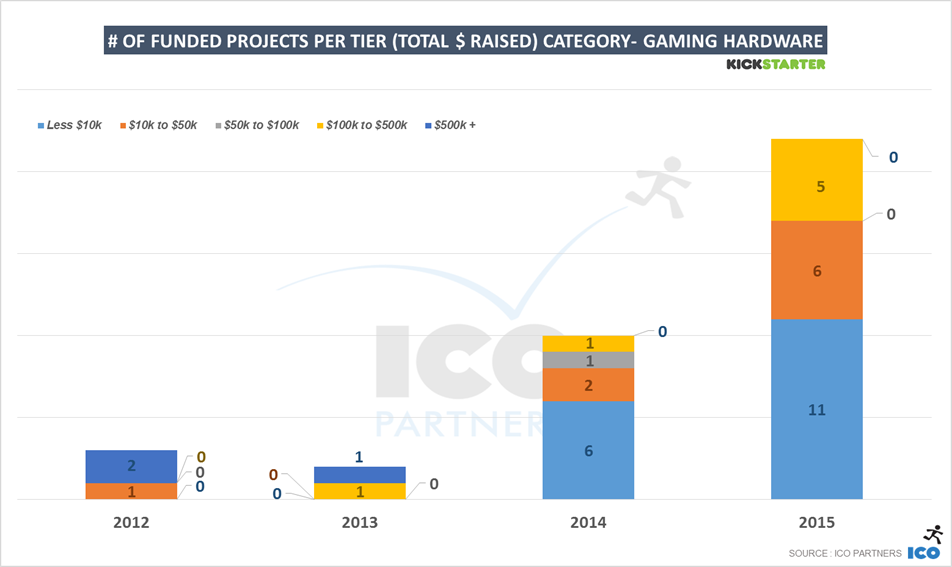 There hasn't be a "homerun" gaming hardware in quite a while. Still, 5 projects last year managed to raise between $100k and $500k, led by the FOVE VR device. This is a niche, and I suspect a number of creators actually choose to list projects that could fit here in the Technology category.
The Live Games section is also very niche, serving the LARP community with its own subcategory. The largest project to date (with still 17 days to go) is the revival of the Mind's Eye Theater for Werewolf and sits currently at $76,000. I can see this growing over time, while still being niche. This is the type of projects that can be very local and community driven and I am not sure many people are aware that more LARP related project are actually being crowdfunded: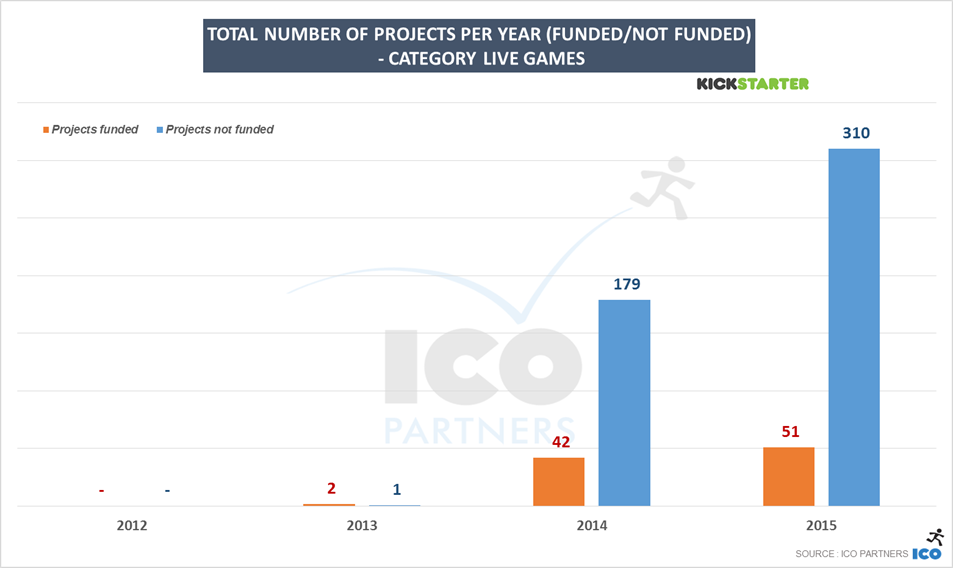 I noted that the 3rd currency for Live Games is the Swedish Crown, behind the US dollar and the British Pound. LARP is strong up North I hear.
One of the first question to people coming to me with a video game project is "Is it a Mobile Game?". Those games don't get funded the way PC or Console games get funded and still many people aren't aware of this. This is a very small category. First, very few of them get funded: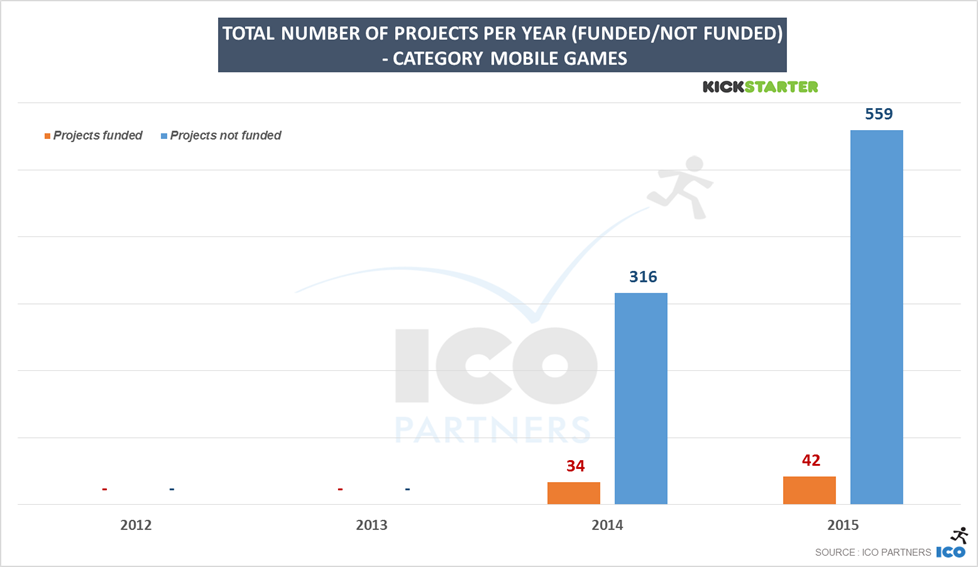 Then, the ones that do get funded, few raise a significant amount of money: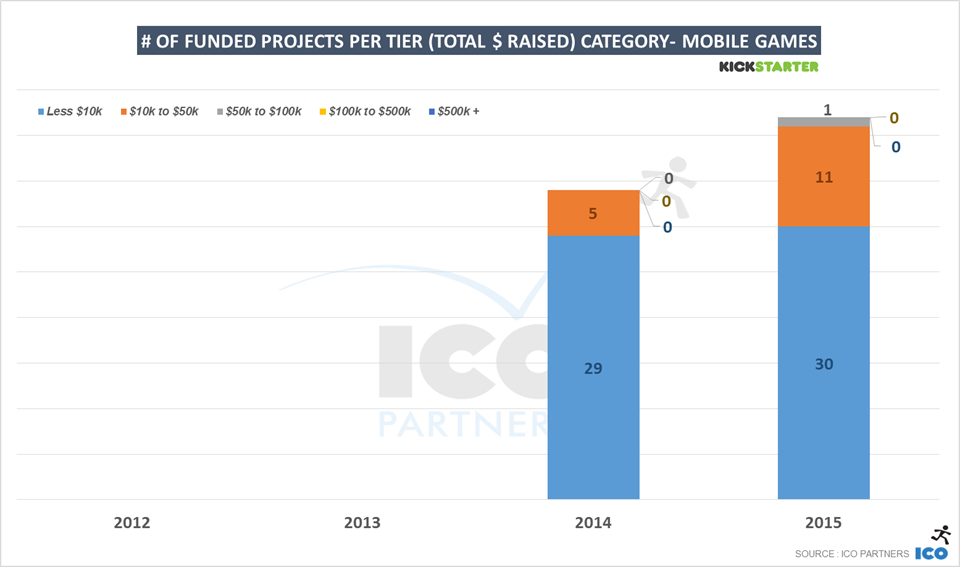 In itself, this is fine, but I think this is often something that people are just not aware, and they try to fund project of a scale comparable to the PC video games projects they see mentioned in the media.
The Playing Cards subcategory is the largest of those small ones. For a long time now, creators have been offering customized playing cards games on all sorts of popular art style or intellectual properties (especially when a company like Bicycle makes it particularly easy to manufacture them). It made sense for Kickstarter to add this as a subcategory, and this is a thriving one: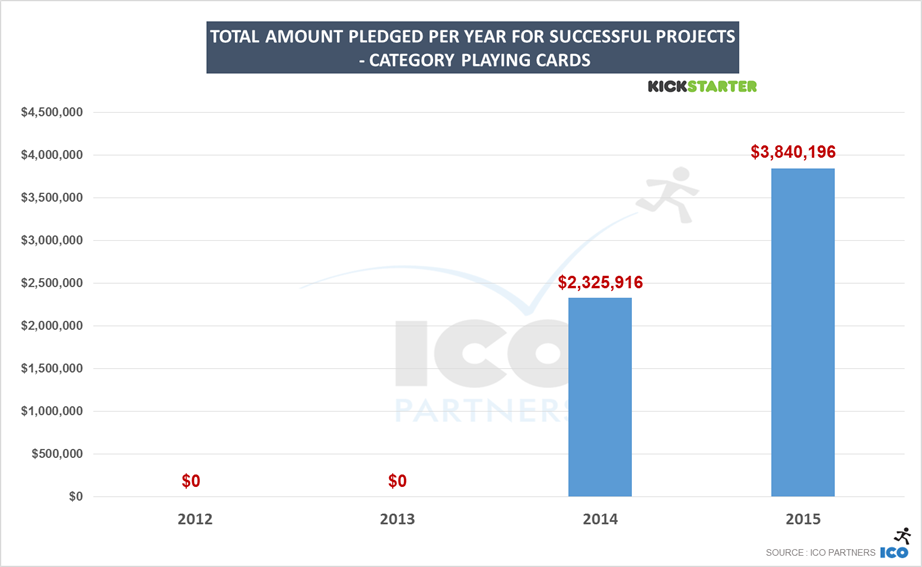 There is also an interesting spread across the different sizes of projects: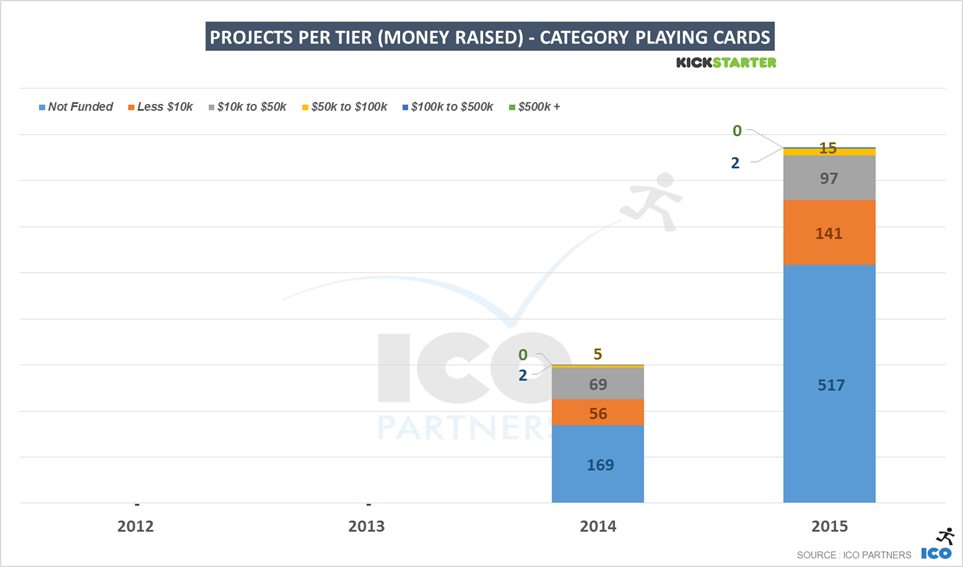 Finally, Puzzles is a very niche segment overall. We are talking 15 projects funded last year, the same as in 2014. None of those raising more than $50,000.
Tabletop Games
2015 is the best year across the board
It seems fair to say that board games are doing incredibly well on Kickstarter. I would love to see some industry-wide numbers, but I wouldn't be surprised if crowdfunding was a notable portion of those.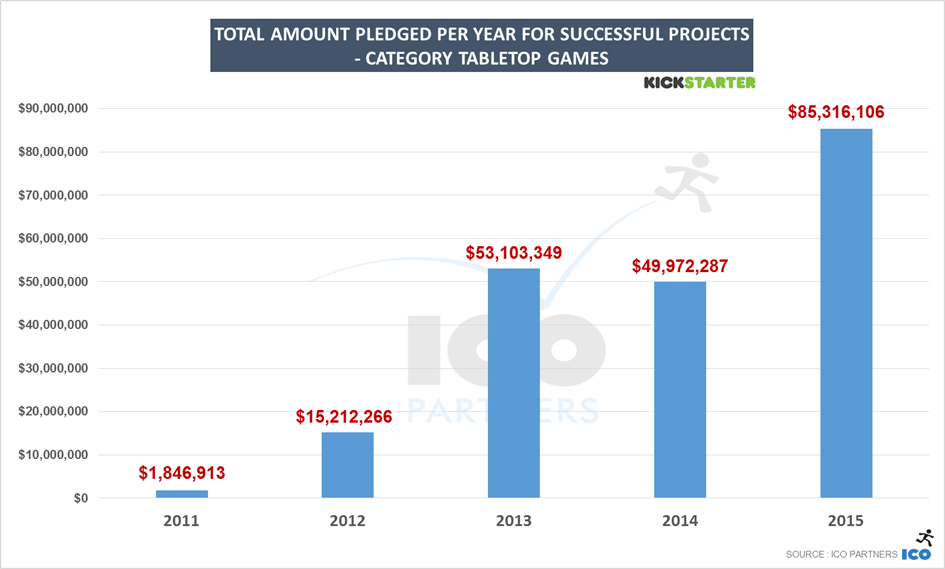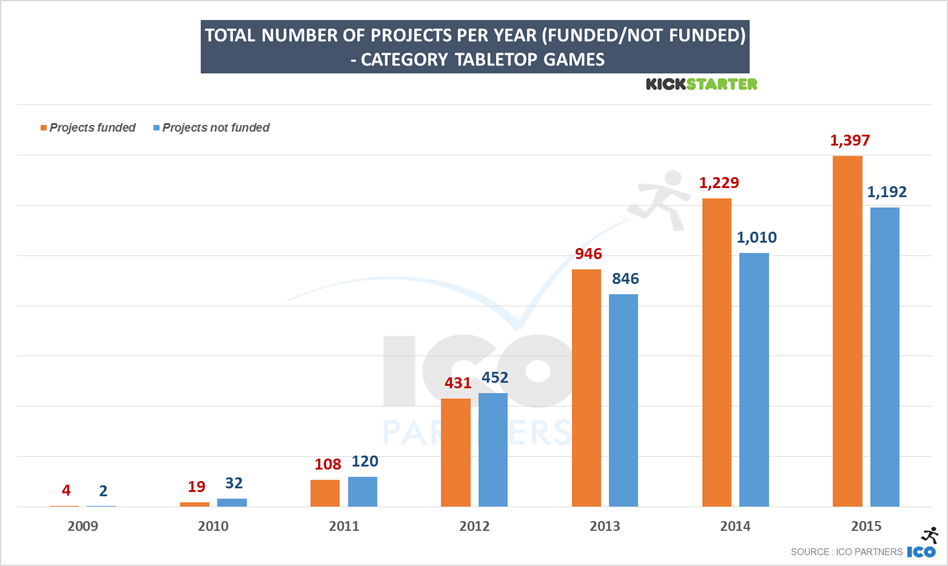 So, not only 2015 was a great year financially, with a significant growth from 2014, but also the best year to date, it was also a good year for the total number of projects that got funded. also an all time high and in constant growth since the launch of the platform.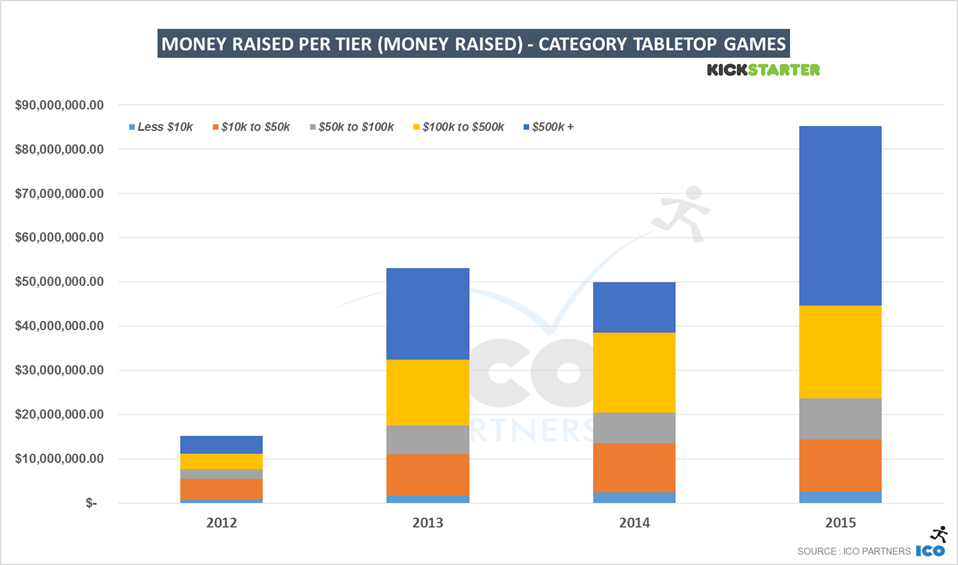 Again, looking at the amount of money raised for each "tier" of project, this is a very healthy trend: there has been more money across all the tiers. the large projects weigh heavily, but that doesn't mean we have an issue of a growth happening only from the top.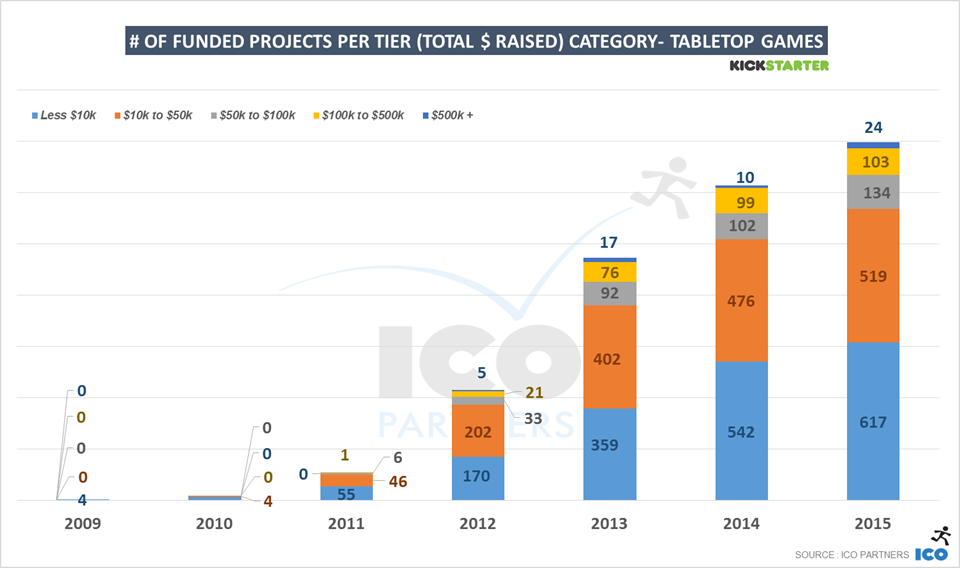 Doubling on the previous statement, more projects got funded on all tiers.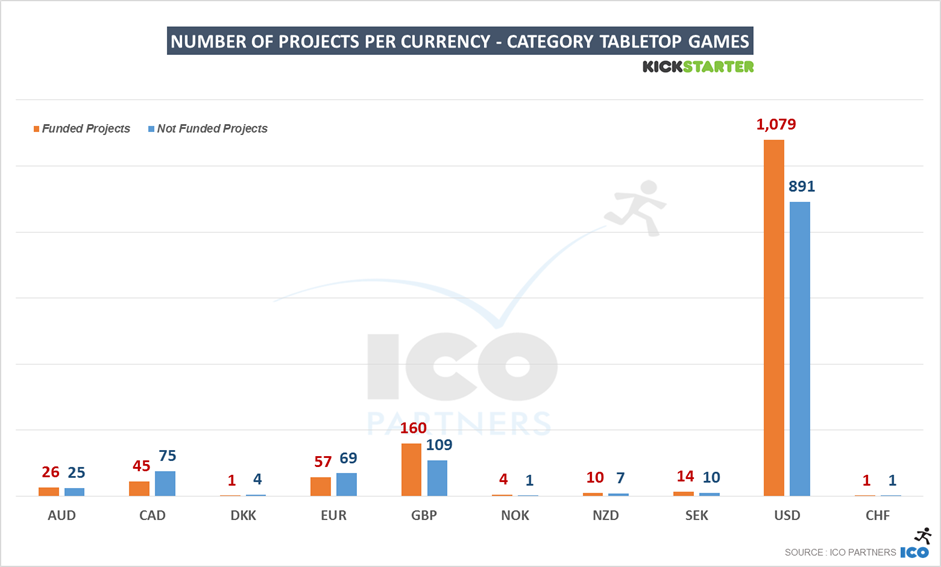 There are many stories that projects need to be released in USD on Kickstarter to get funded. And while there is a high ratio of funded project there, I suspect the rumours are pushing a confirmation bias.
Well, actually, projects in GBP have a higher success rate. Good job on the British tabletop industry!
Trying to find anything to compensate those excellent trends, I wanted to share the ratio of $0 projects (my junk ratio) and the number of projects that got suspended by Kickstarter. In both cases, the tabletop subcategory is actually performing very well.
2015, officially the best year ever for boardgames on Kickstarter.
Video Games
Maturation means more money, but not for more people
I suspect the main interest for many of you, the Video Games subcategory had a good year in 2015, financially: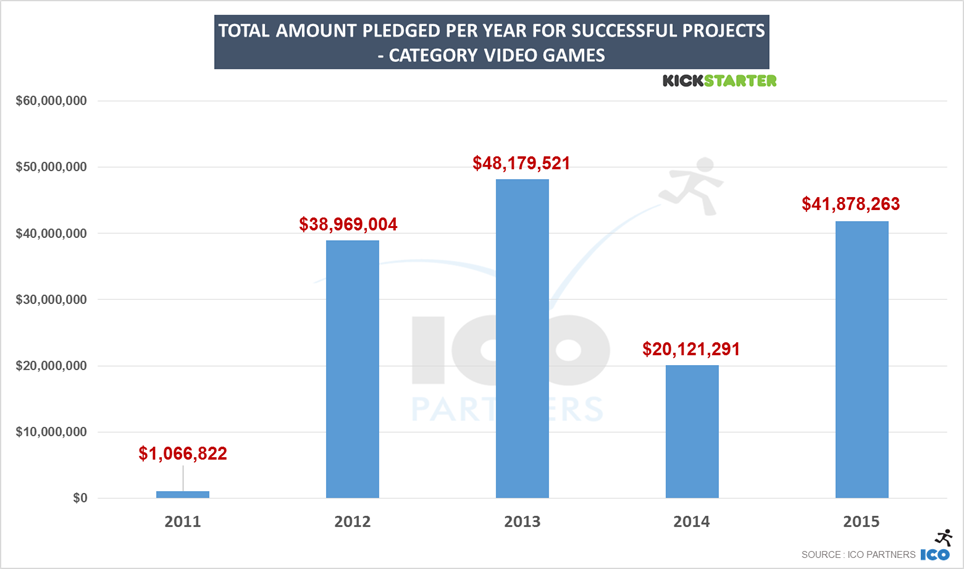 But looking at the number of projects funded, it is clear the good performance was driven by large projects: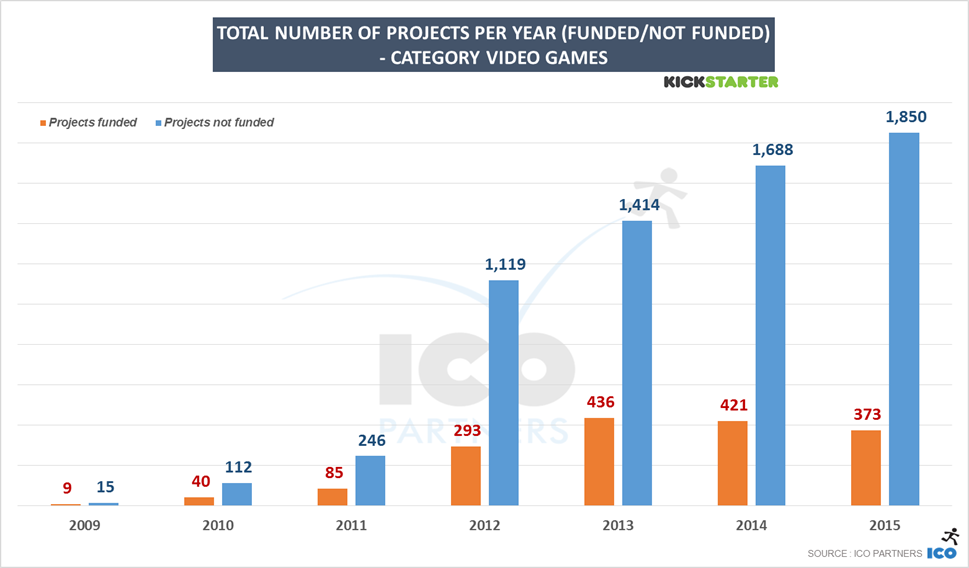 This is the 2nd year in a row that we see fewer projects being funded on Kickstarter. There is no sharp drop, so this well be the system being refined and the communities being more demanding in terms of quality before funding projects.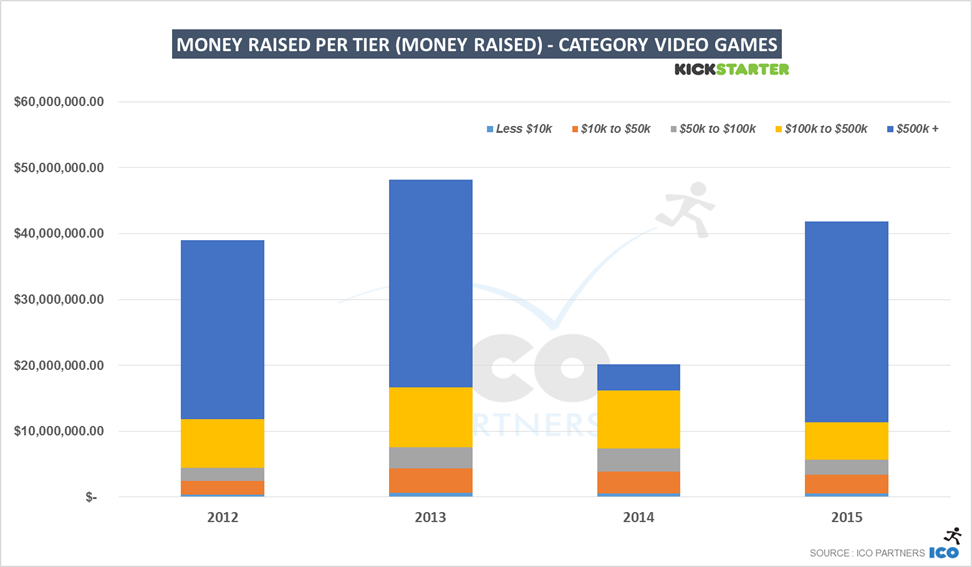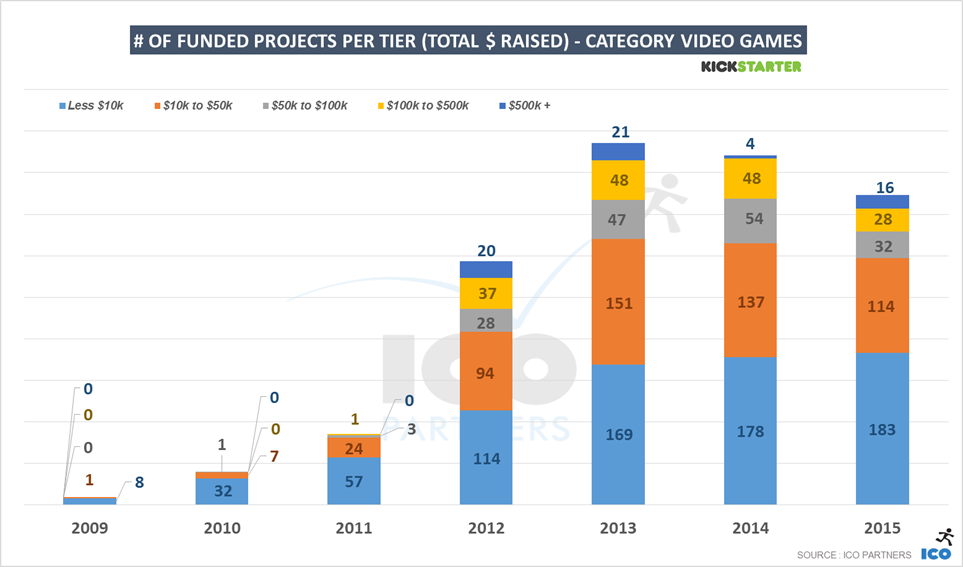 The range of projects that are less common from 2014 are the $10k-$50k and the $50k-$100k ones. We keep seeing a growth of the very small projects, year-on-year, though.
There are more projects than ever trying their hand at getting funded on the platform though. I suspect the quality bar to get funded is just getting higher. For most projects, it now necessary to have a demo of the game already available and the ability to show a rather advanced stage of the development process, much more so than in 2013. The fact is also that video games projects don't scale the way board games to. The average for a funded Video Games project is $43,000 while  the average goal for a funded Tabletop Games project is $9,700. There are many differences in the way both medium are built and developed and the ecosystem in which they evolve that mean that they will always behave differently as far as crowdfunding is concerned.
Now, last year, Kickstarter opened up to many important European countries, including Framce, Germany and Spain. And while it help with the growth, it was rather disappointing: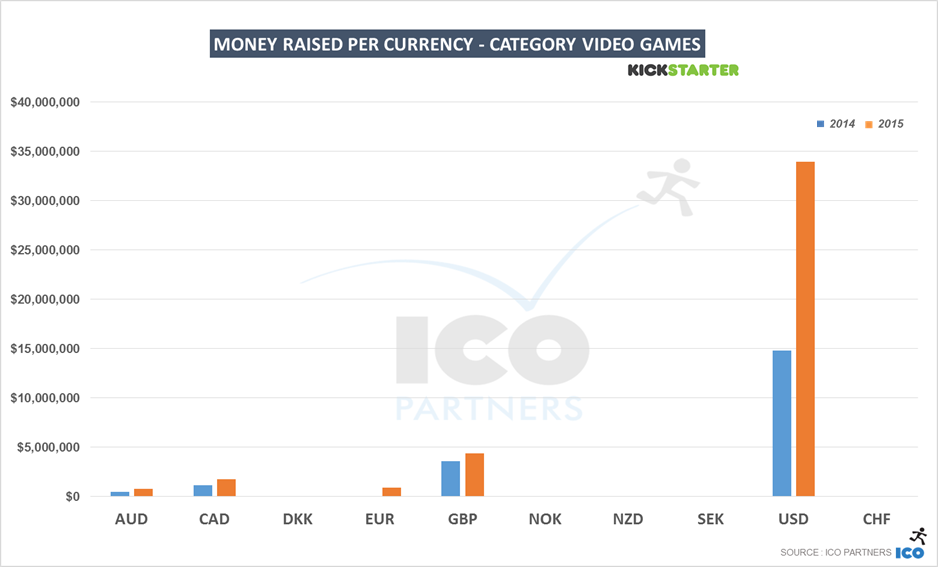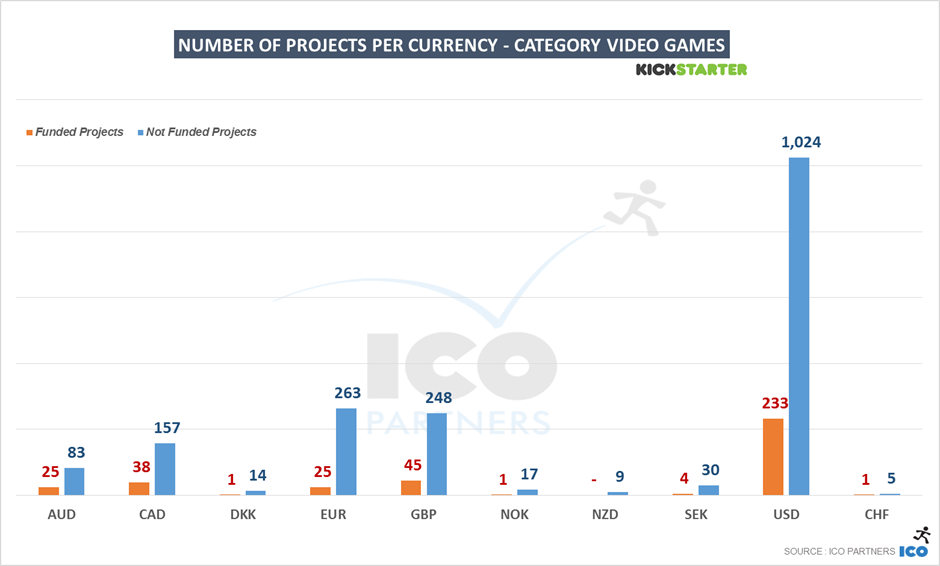 Projects in EUR as their currency are ranked 4th, ex aequo with projects in Australian dollars. I would expect there is a significant margin of growth there.
Finally, I wanted to mention those two indicators as with the Tabletop games: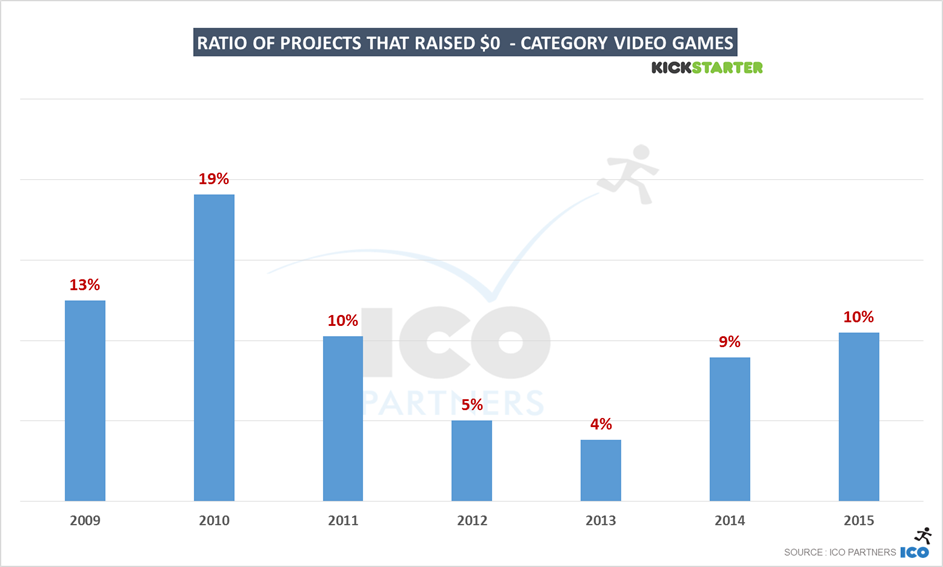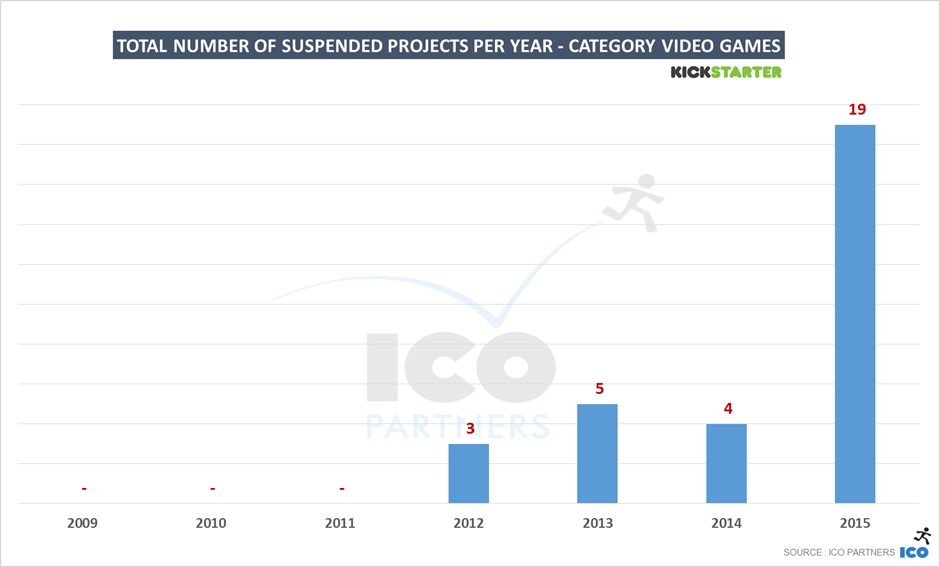 The junk ratio (proportion of projects that raised $0), while higher than the one for boardgames, is quite under the average you see on Kickstarter (20%). And even there has been a significant increase in the number of projects suspended by Kickstarter, overall the subcategory has not a massive amount of those.
As a conclusion, despite seeing a larger amount of money being raised for video games, I would put 2015 at the same level as 2014. There has been a small decline in the total number of projects being funded – no bubble bursting here IMHO – and opening up to more European countries didn't have any significant effect for video games. Overall, it seems crowdfunding for games get a bit more sophisticated, increasing the bar for funding, while still being a very beneficial process for the few projects perfectly fit for the model, such as were Shenmue 3 and Bloodstained last year.
Parting words
To finish this blog post though, I wanted to share 3 projects, currently live now, each one quite original, all of them with an art direction I particularly appreciate, and that I hope you will find interesting.
If you do, you can back them of course, but more importantly share them around.



All the slides
https://icopartners.com/newblog/wp-content/uploads/2014/03/kickstarter_header.png
256
710
Thomas BIDAUX
https://icopartners.com/newblog/wp-content/uploads/2020/04/CRUSHCREATIVE_ICO_BRANDING_LOGO_NavyWhite-01-e1586189748878.png
Thomas BIDAUX
2016-02-12 14:26:28
2016-02-12 14:53:35
Games on Kickstarter in 2015