In my last blog post on Kickstarter, I explained how there was a significant drop in the amount of money that went to video games over the past year. Being 3 months in 2015, now seems like a good time to review how the year has started, and how it compares to last year's trends.
Quarter-to-Quarter analysis
Before looking into 2015, I looked at Quarter-to-Quarter trends from the previous years – with the idea of providing more context when looking at the Q1 number for the current year in relation to patterns from previous years.
We are still in the early days of crowd funding, and I only have 2 years to look at properly: 2013 and 2014. Prior to 2012 the numbers are just too low, and 2012 numbers themselves are incredibly skewed by the fact that it took off after Q1.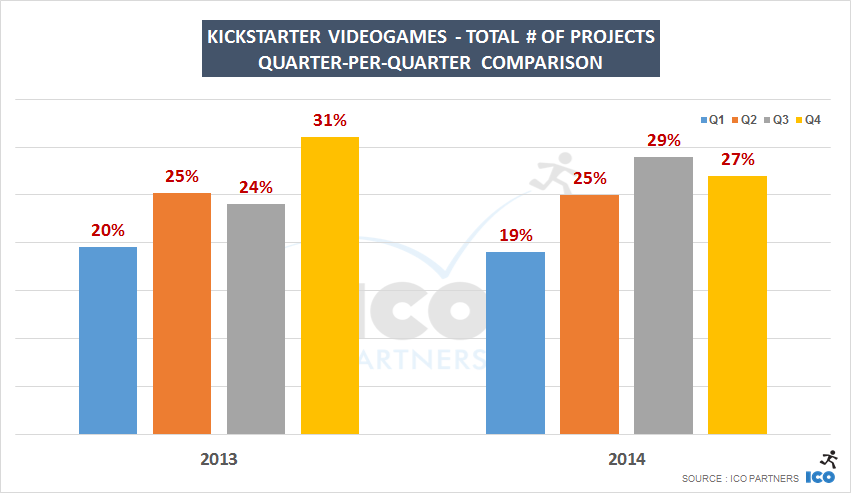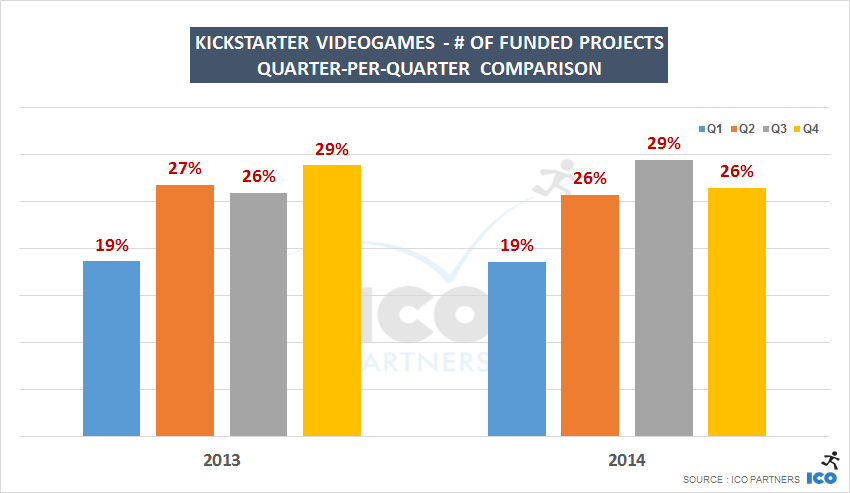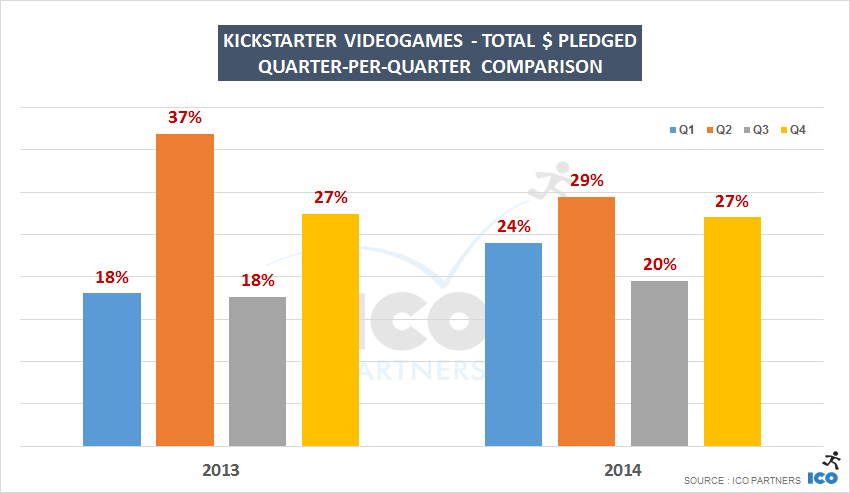 Here is how I see the quarterly patterns:
Q1 is usually a quieter month. It's after Christmas, and there are fewer projects overall. This means that we can expect it to accrue less funds.
Q2 is a very strong period. The best quarter in both years in terms of revenues and a strong proportion of funded projects (slightly higher ratio of funded projects as well, especially last year).
Q3 is the summer. Both years, it had the lowest quarter of money raised. I suspect big projects avoid to launch during the summer (wisely). But it also has the highest number of projects submitted (possibly that's when hobbyist projects get launched as they have more time then?) – it doesn't prevent them to get funded though.
Q4 is the pre-Xmas insane rush period for the game industry. Getting visibility then is extra hard, we can see it has a lower than average ratio of projects getting funded (true for both years). However, projects that get funded are well provided, this is the second highest quarter per money pledged. Probably helped by a few larger projects again.
Q1 2015
 
Purely in terms of money raised, 2015 is having a great start.
As shown above, Q1 is historically not the strongest quarter, and already more than $8.5 million has been pledged for videogame projects.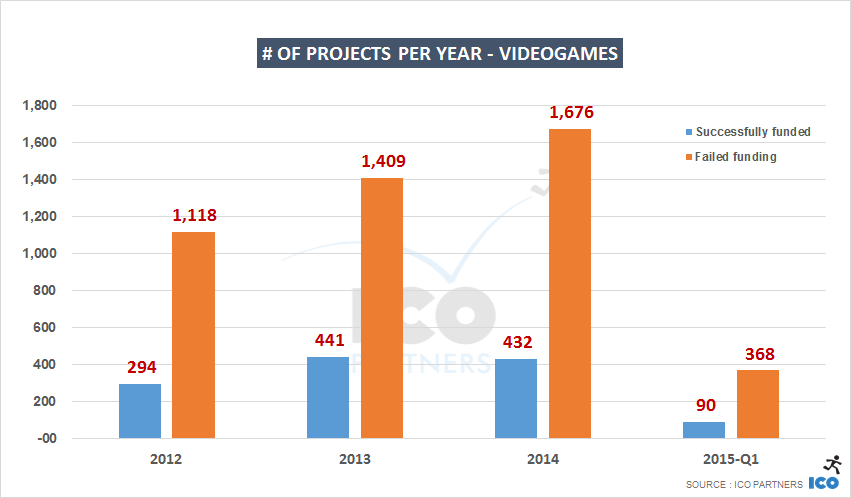 Looking at the number of projects though, it paints a slightly different picture. While money-wise, this year seems ahead of 2014, looking at the number of funded projects, we are in the same range as 2014 for the same quarter. And a similar ratio of projects getting funded (roughly 19.5% in both cases).
It means that Q1 2015 has had quite a few very well funded projects in proportion to Q1 2014 (and belying what was seen in Q1 2013 too).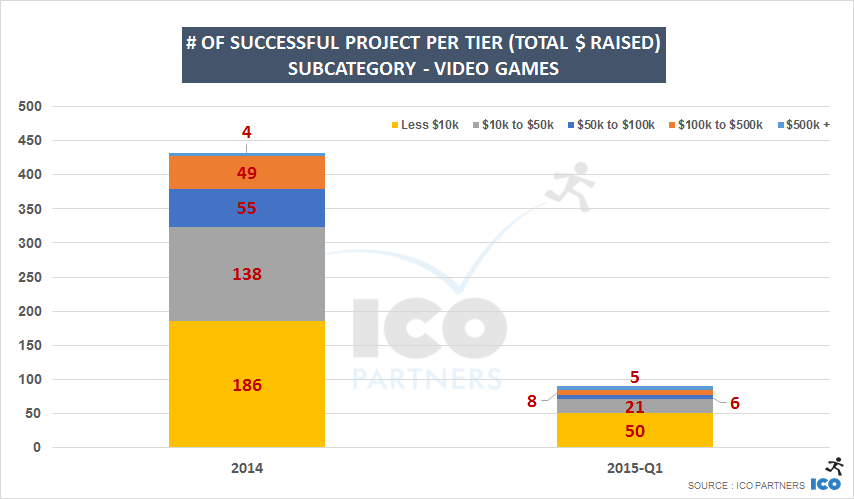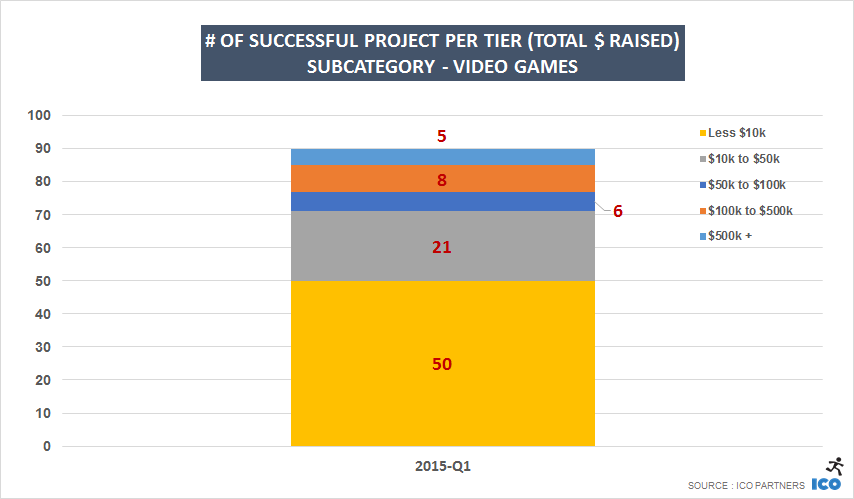 So, I am left with an interesting question. Q1 2015 has started really well, from a money raised standpoint. But looking beyond those five very well funded projects, it seems like that quarter has not been performing on par with last year.
I used to tell everyone that big successes on Kickstarter were always helping the smaller projects, bringing attention to the platform and driving traffic to games that had more limited communication means. I am wondering if that effect has weakened somewhat (it was a very videogame specific effect, other categories didn't see much of this) and if this is perhaps another part of the evolution of the crowd funding ecosystem for games. I think so, but it is still quite early to say.
And for what it's worth, April is looking good so far.
Note on the methodology – Reminder on how data is gathered. It is automatically scrapped (thanks to a tool provided by Potion of Wit) from the publicly available data on Kickstarter.com. Because the website is evolving overtime, the scrapping methods is also changing. You may see discrepancies on old data we provided and data provided now. It mostly come from the evolving data scraping process.
https://icopartners.com/newblog/wp-content/uploads/2014/03/kickstarter_header.png
256
710
Thomas BIDAUX
https://icopartners.com/newblog/wp-content/uploads/2020/04/CRUSHCREATIVE_ICO_BRANDING_LOGO_NavyWhite-01-e1586189748878.png
Thomas BIDAUX
2015-04-15 15:20:25
2016-09-30 19:22:02
Kickstarter - Videogames projects during Q1 2015