As is the tradition, this is the follow-up from the overall Kickstarter annual review from last week, with a focus on the Games category. Again, I will talk about Kickstarter, but I shared some insight on crowdfunding across different platforms for video games in a piece on PC Games Insider.
Games category now leading on Kickstarter
We talked about it last week, but that's a notable change from 2016. Games represented 26% of all the money pledged in 2017, and 15% of all the funded projects.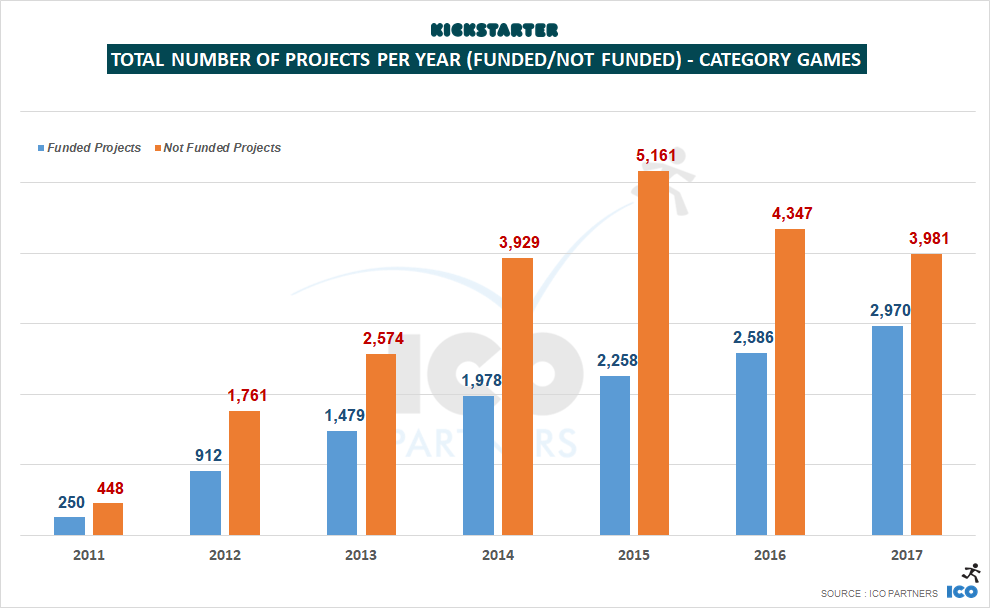 There are two very important things to notice here.
First, the overall money raised by Games projects saw a significant bump in 2017. Secondly, the total number of Games projects that tried their luck on the platform has stayed roughly the same, at just under 7,000 campaigns total, but more of them achieved their funding targets in 2017, compared to the previous year.
We can consider that the platform has reached a better maturity point, where the projects trying to get funded having a better sense of what is required to meet their funding goal. There were 15% more Games projects funded in 2017, compared to 2016.
More money was raised all projects tiers. The top-tier, $500k+ projects represent a lot of the total money raised, of course – there was $70m raised by these projects alone. But the number of projects successfully raising between $100k and $500K is also up on previous years, representing about a third of all the money raised in 2017.
The number of projects in the top tier didn't move from its 2016 figure – 38 Games projects raised more than $500k in 2017, the same number as the year before. A few very large projects represented a lot of the money raised. Notably, the record breaking Kingdom Death Monster 1.5, that became the #1 project in the Games category, raising $12.4m, and The 7th Continent, that raised $7m on its own. Together, these two campaigns represent more than 12% of all the money raised in the Games category, in 2017. And it is no surprise that they are both tabletop games project, and both of them are sequels/reprints of already successful Kickstarter projects.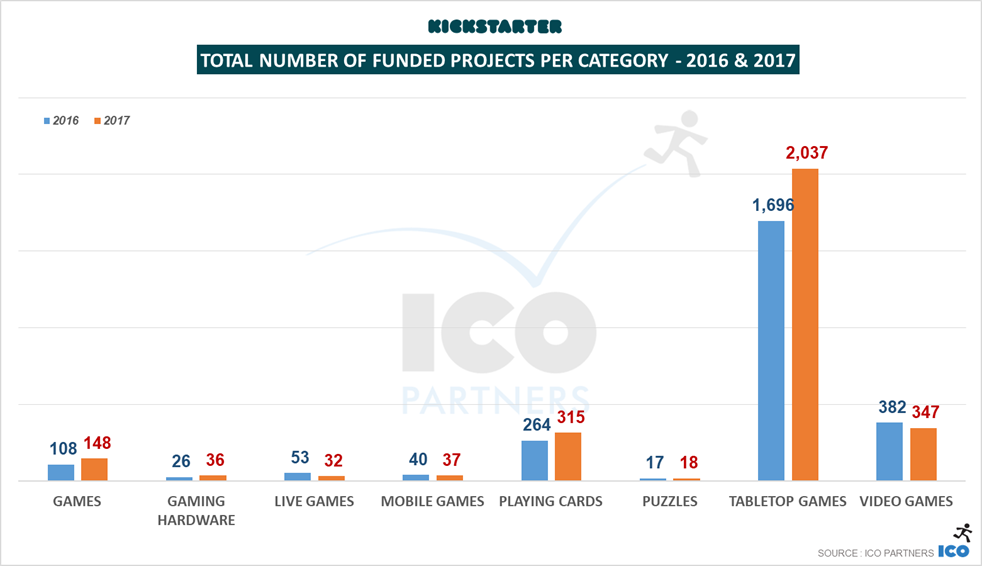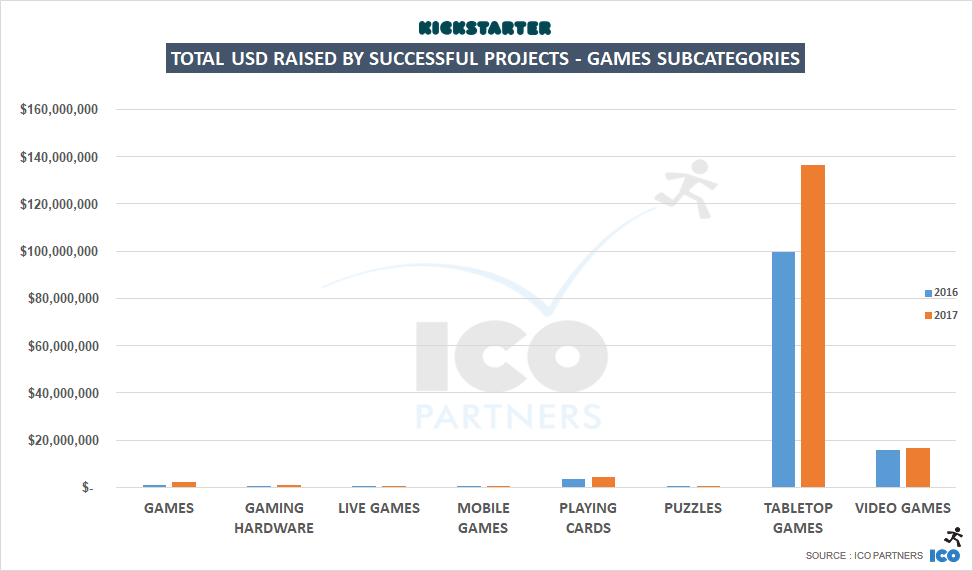 Looking at the subcategories, the number of funded projects for video games has dropped a bit from 2016. There are a few more Playing Cards projects and generic Games projects funded. But more significantly, the number of Tabletop Games projects has grown significantly, up 18% from 2016.
And of course, almost all of the growth in the total amount of money raised by Games projects is fed by the Tabletop Games subcategory.
A look at the minor subcategories
Games. This catch-all subcategory, meant to cover any project that the existing labels don't properly represent, doubled in size in 2017, both in total number of funded projects and total amount of money raised. It is still a relatively small total, as it only covers those odd projects with an identity that's hard to define, but it ought to be mentioned. To understand what this kind of projects these are, I give you the top two projects of 2017, both "golf" related: Chip-Down: Golf for the Non-Golfer and Beer Pong Golf : Golf Spieth Can't Master
Gaming Hardware. We saw more hardware projects getting funded in 2017, but none of them was a mega hit. It is still worth noting than more projects passed the $100k bar than last year (five in 2017, compared to only one in 2016). And if you are curious, the largest project of the category was The Dreamcade Replay retro console.
Live Games. A niche subcategory, it has declined a bit in 2017, for the first time since its addition. One project passed the $100k mark for the first time for the subcategory. However, it's a little bit at odds with the kind of projects you usually find there, and would probably be more at home beside the two previously mentioned golf titles in the Games subcategory. Take a look at CHIPPO: The New Golf Game for Beach, Backyard & Tailgate.
Mobile Games. A regular piece of advice I give to people is to not crowdfund mobile games, so I am quite biased when it comes to analysing this category. In 2017, it passed the $500,000 in total funding raised. That's probably the equivalent of one day of Supercell's marketing budget for Clash of Clans. There are still about 37 projects that got funded, about 10% of all the projects submitted, way below the average for games' projects. One project raised more than $100k, Epic Digital Card Game, but it happens to be a port of a very successful tabletop game.
Playing Cards. The third-largest subcategory, it saw some growth in 2017 both in terms of the total amount of money raised (+21%) and the number of projects that were successfully funded (+19%). Very noteworthy as well, is the fact this is the first year we've seen a Playing Cards category project raising more than $500k – The Name of the Wind Art Deck raised $630,000.
Puzzles. The smallest of all the Games subcategories, it had 17 projects funded in 2016, and 18 projects funded in 2017. The total amount of money raised was less than half the amount from 2016, but with so few projects, big variances are to be expected.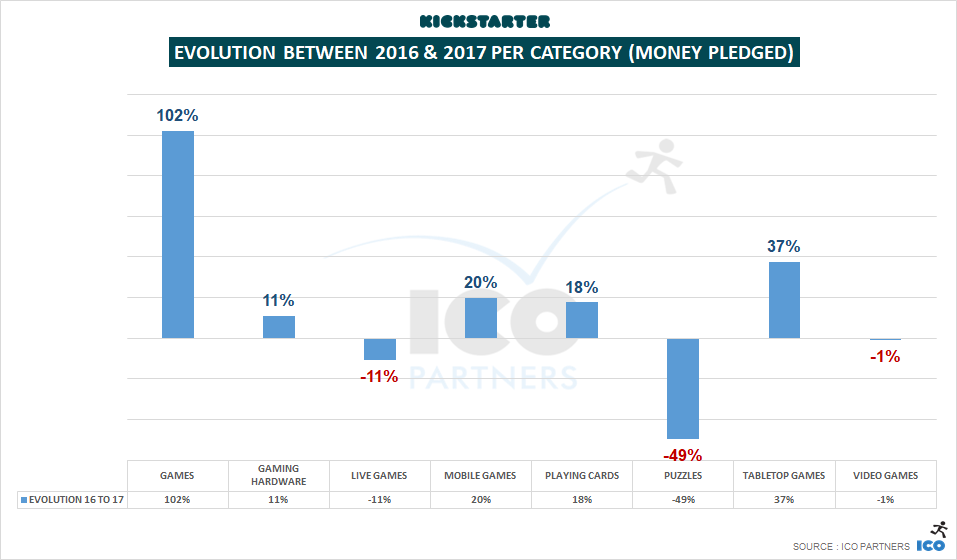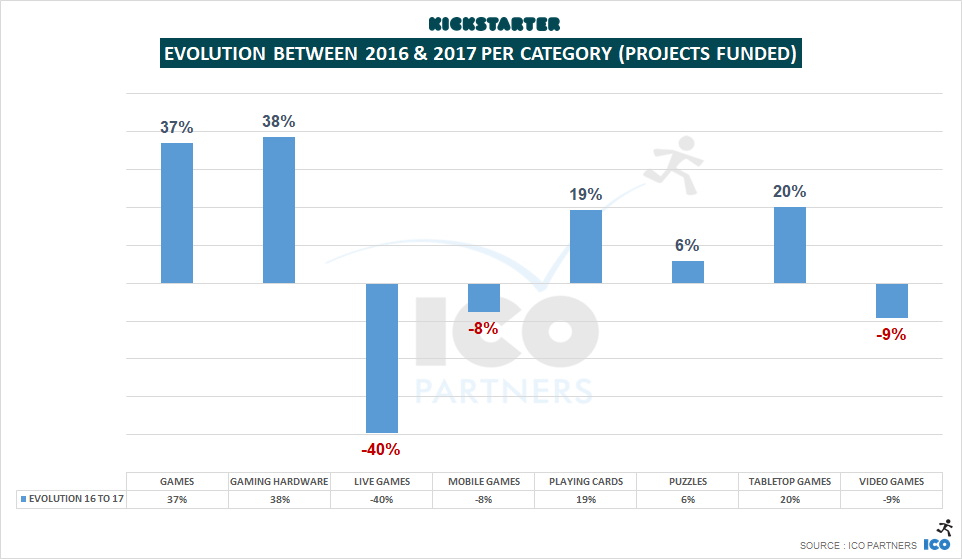 And now, looking at the two big subcategories.
A stable year for Video Games
With slight growth in the total amount of money raised, and a slight decline in the total number of projects funded, 2017 doesn't appear to be exceptional one way or another for video games on Kickstarter.
There are a few things worth noting, though:
The total number of video games projects submitted to Kickstarter is rising faster than the number of funded projects is declining. It means the ratio of funded projects is going up.
This is the first time we see a decline in the number of funded projects in the Less than $10,000 raised tier. The other tier that sees a decline is the $50k to $100k tier. So, notable changes in 2017 seemed to occur within more the very small, hobbyist projects, as well as the projects raising between $50,000 and $100,000. For all the other tiers, there were a similar number of funded projects across 2016 and 2017.
My theory for the decline of the smallest tier is that fewer creators are trying to crowdfund their projects, and it directly affects that range more than the others. Kickstarter doesn't have the visibility it had in the media, and it doesn't come up as often as it used to as a viable platform for small projects.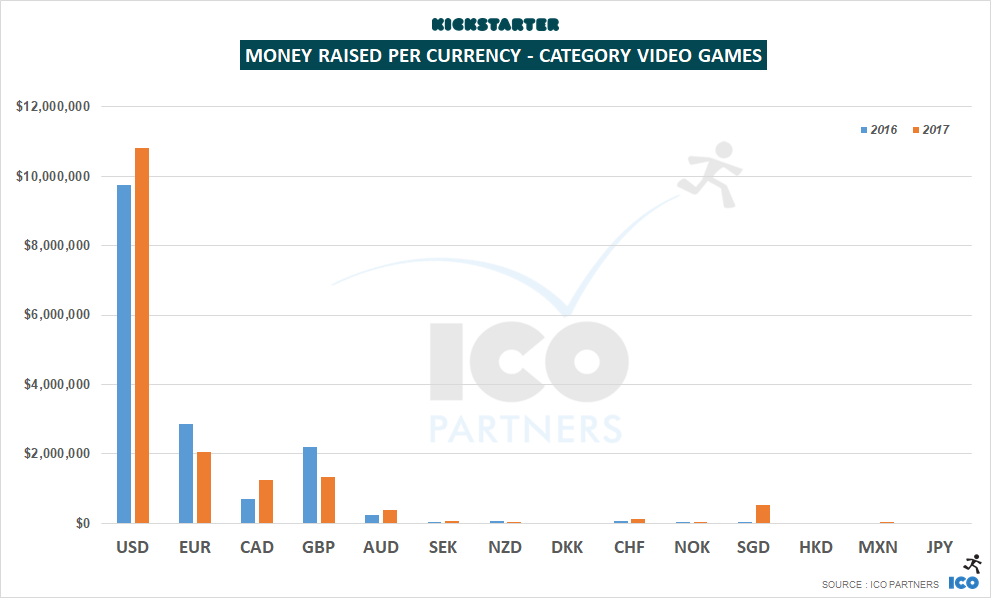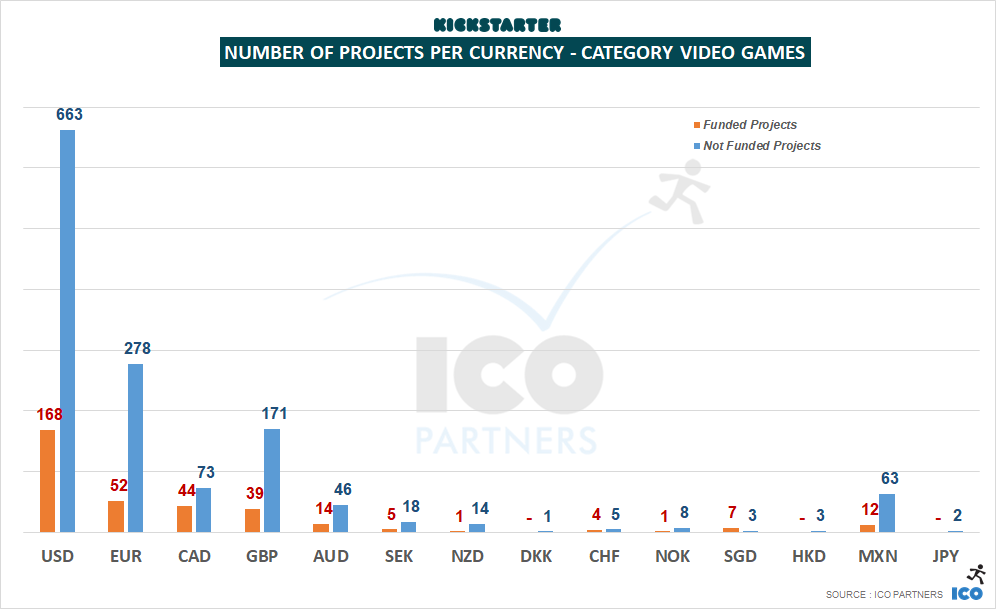 2017 was mostly a better year for video games projects launched in USD and CAD. A higher proportion of projects in those currencies got funded than those in EUR and GBP.
I found it interesting to see that 12 video games projects launched from Mexico got funded, even if that represents a small total amount in the end. Also notable is the absence of projects launched through the Japanese version of the portal, especially considering how some of the biggest crowdfunded video games of all time originate from there. Kickstarter's September 2017 launch in Japan looks like a flop so far, and the video game category seems to be the best illustration of that.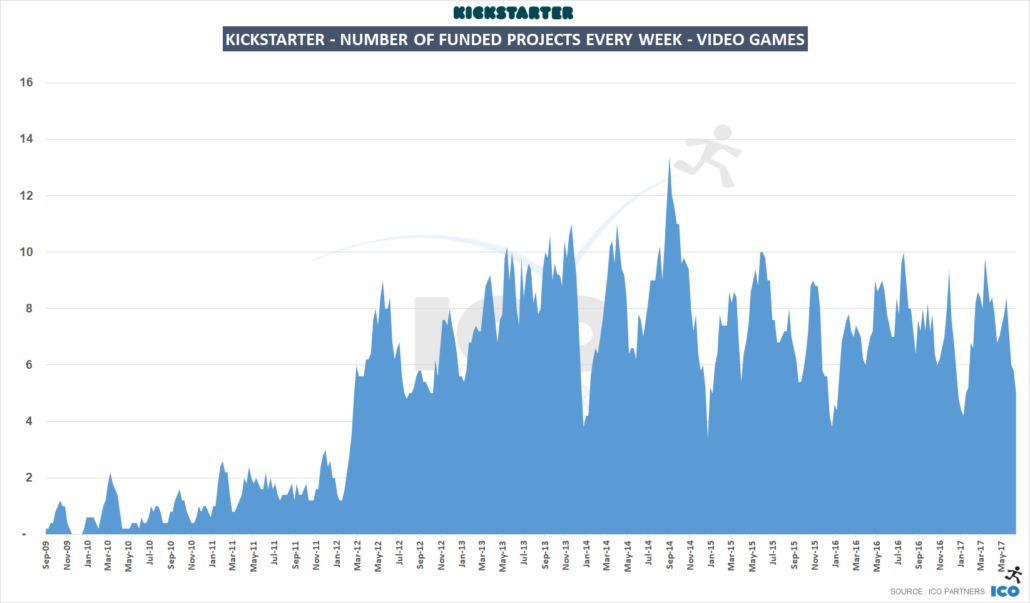 Tabletop Games: The Kings of Kickstarter
These two graphs tells the most significant story of 2017's figures.
Tabletop Games have constantly grown over the past few years, both in terms of the total amount of money raised, and the number of projects funded. After a record year in 2016, the subcategory grew again, by +36% in 2017. The number of funded projects grew by +20%.
The growth invites questions, though. Will the subcategory stabilize? Will it crash? Can it keep growing?
There is no indication that its upward momentum will slow down anytime soon, even if record-breaking campaigns make it that much harder to keep up with the total amounts raised over a given year.
All the indicators for the subcategory are really healthy at the moment.
There has been growth across all tiers. This is, for me, a very important factor in determining how healthy the environment is, within this subcategory. If it were only good for the large, massive campaigns, it would not be a good sign; but having projects across all tiers growing shows that the ecosystem is not built upon a couple of metaphorical black swans, painting an inaccurate interpretation of the picture.
Projects across currencies are also finding success. Even if projects in USD represent the vast majority of the money raised and of the number of funded projects, projects in EUR and GBP are also healthy, representing more than 25% of the total funded projects.
This is especially interesting when you see campaigns that know that they will perform very well deciding to launch in USD, regardless of where they are based geographically. For example, 7th Continent, from a Paris-based company, launched their project in USD rather than in EUR.
Concluding thoughts
Last week, at the PC Connects in London, I delivered a presentation about the state of crowdfunding in video games. One point I made was the fact that Early Access is a much bigger competitor to Kickstarter than any other platform. One reason for this is the fact that, over the last year, the optimal window to launch a crowdfunding campaign for a video game has moved closer and closer to its ultimate launch. This is how I illustrated this (you need to click the image to see the gif in action):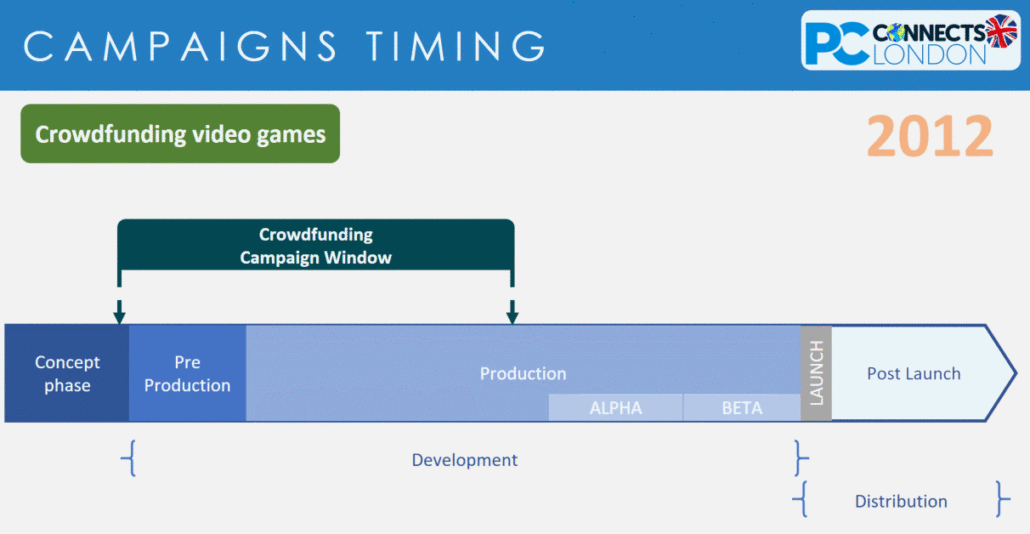 What is very interesting is that, for tabletop games, that window has moved as well. Projects need to be more and more polished to get funded, but physical production means that the optimal window cannot move any further to the right.
The other important difference between video games and tabletop games is the fact that, for the latter, Kickstarter is the end solution for distribution for most projects. Whereas for video games, the end solution is Steam – Kickstarter helps a bit, but you still need to go to Steam.
So if your game in Alpha or Beta has a lot of appeal and replayability already, the chances are that when it is good enough to be showed on Kickstarter, it is also good enough to launch in Early Access. It is a lot less hassle, as you only have to concern yourself with the end game distribution platform. Early Access, however, doesn't provide a lot of the perks that crowdfunding does – building the community, the opportunity to test your publishing skills, and building awareness – but I suspect to many studios, this is secondary, or underestimated.
What is also true, and a strong trend, is that many video games projects on Kickstarter are games that, by their nature, don't have a lot of replayability (like, say, Point-and-Click adventure games) or immediate accessibility and audience appeal, making Early Access a path they cannot take.
All the Slides
A note on the methodology
Like for all previous blog posts on the topic, we have been using the data on the Kickstarter pages themselves (with the help of Potion of Wit) and the collection method is not without its own issues. Please consider all of the numbers presented here as estimates.
https://icopartners.com/newblog/wp-content/uploads/2018/02/header.png
256
710
Thomas BIDAUX
https://icopartners.com/newblog/wp-content/uploads/2020/04/CRUSHCREATIVE_ICO_BRANDING_LOGO_NavyWhite-01-e1586189748878.png
Thomas BIDAUX
2018-02-01 12:28:50
2018-02-06 10:33:38
Kickstarter in 2017 – In depth look at the Games category