Currently there is no way to miss Pokémon Go. In its short lifetime, the game is breaking records left and right like being the biggest mobile game in the US ever or attracting more users than services like Twitter or Tinder.
We looked into our coverage tracking tool (more info on the tracking method here) to see how well Pokémon Go is doing in terms of press coverage. To make the coverage of the only recently released title comparable to other games we looked at data from the last three years and picked the highest performing week in terms of number of articles for each title (technically, the best 7 consecutive days).
In the graph below you can see that Pokémon Go managed to get by far the most articles on it's highest performing week.


One of the main reasons Pokémon Go was able to achieve such a high amount of coverage is the fact that many general interest websites and gaming websites currently cover the game with several articles a day.
This makes sense as the appetite for Pokémon Go coverage is remarkable at the moment. For instance, Game Network (a publishing house hosting some of the biggest gaming sites in the world including Eurogamer, VG247 and Rock Paper Shotgun) noted that they had their biggest traffic day so far thanks to Pokémon Go:
Biggest traffic day ever for Gamer Network yesterday (thanks Pokemon!)

— Rupert Loman (@rauper) July 15, 2016
Even bigger yesterday! https://t.co/rY7EryXHDq

— Rupert Loman (@rauper) July 16, 2016
And Kotaku's Keza MacDonald stated that Pokémon Go articles see outstanding traffic numbers, with over half a million clicks at least per article, making it "considerably bigger than E3":
The numbers on Pokémon Go stories on Kotaku are ridiculous. At least half a million readers on most posts. It's CONSIDERABLY bigger than E3.

— Keza MacDonald (@kezamacdonald) July 12, 2016
In short: there seems to be no game in the last three years that managed to generate nearly as many articles per day as Pokémon Go.
Of course this only shows a snapshot of the media coverage for the games listed. While Pokémon Go had an impressive start, games like Overwatch manage to keep up media buzz over a long period of time.
Even so, looking at the coverage from Pokémon Go, Fallout 4, Overwatch and Zelda: Breath of the Wild over a longer period of time (June 2015 to July 2016) it became apparent that Pokémon Go has an impressive head start. It even even stacks up well against Fallout 4 which saw outstanding coverage numbers and is internally our benchmark to see how much coverage it is possible for a game to get. For the overview graph we also highlighted the biggest news beats where possible. Some titles like Overwatch didn't see one particularly strong communication topic but rather saw a very high amount of coverage from a mix of sources.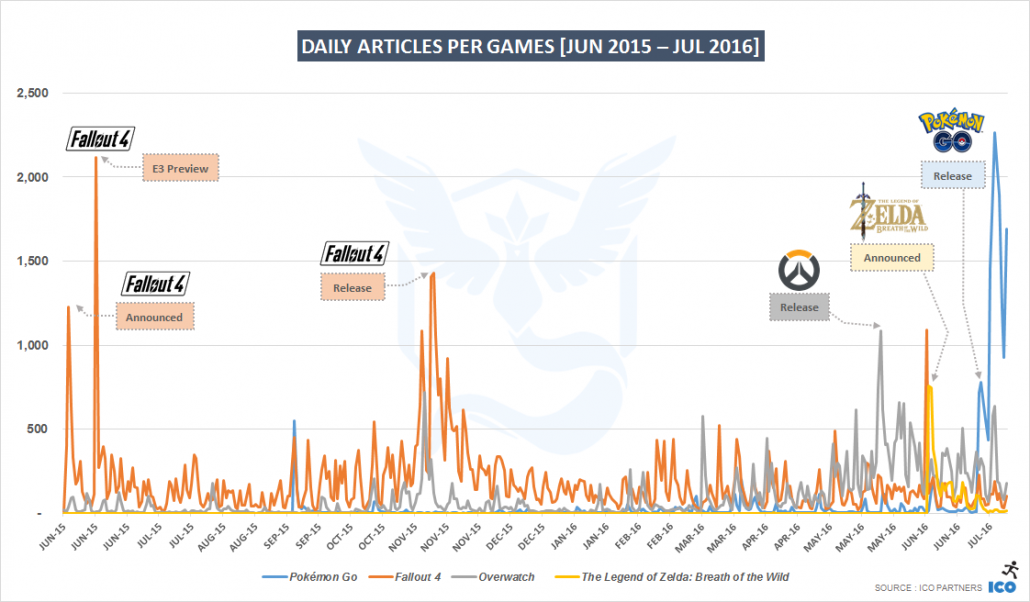 What makes the extremely high number of Pokémon Go articles even more impressive is the setup of the game: Whereas Fallout 4 perfectly orchestrated a genius PR coup last year by revealing and extensively showing the game just a day before E3 started, with press and players already eager for news, Pokémon Go was simply released in a few countries without any event, fancy videos or much fanfare.
I will offer some extra food for thoughts for you as you ponder the cheer scale of the coverage that Pokémon Go has received recently. The below graphs shows the repartition of the recent coverage for both Overwatch and Pokémon Go based on the type of media: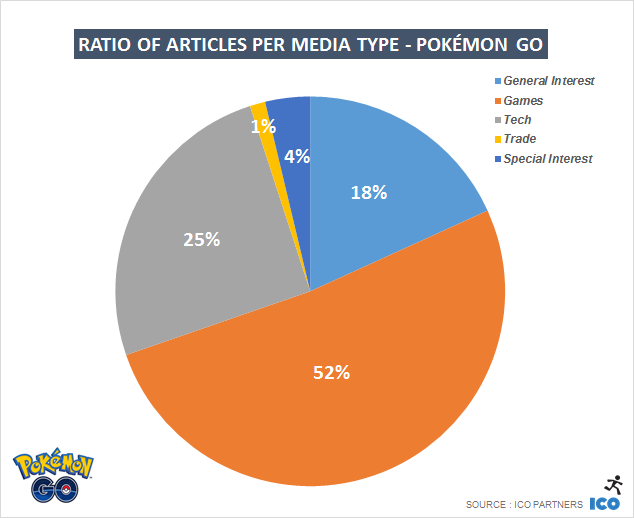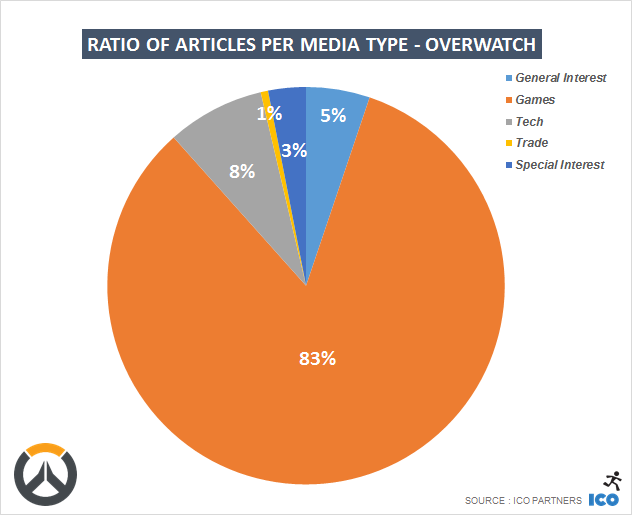 Our tools have been built around media outlets that cover video games. In terms of the media that we properly track, I am very confident in regards to what we consider "games" media. However, there are plenty of "general interest" media that we are missing, because they focus much more on local news and have historically mentioned video games only anecdotally (if ever). I believe that what we see in our tools, while probably fairly accurate and representative for most video games, is missing many of those media from our data set.
This would mean that despite being so overwhelmingly dominant already, it is actually strongly under-representing the actual media coverage of Pokémon Go.
While it's hard to predict how the Pokémon Go hype will develop over the next couple of days, it is already clear that it's the strongest covered Nintendo title in years and it will almost certainly be the most covered game of 2016.
Nota bene: many thanks to Thomas Reisenegger for putting together most of the elements of the article.
https://icopartners.com/newblog/wp-content/uploads/2016/07/Pokemon-Go-media-coverage-is-truly-insane.jpg
256
710
Thomas BIDAUX
https://icopartners.com/newblog/wp-content/uploads/2020/04/CRUSHCREATIVE_ICO_BRANDING_LOGO_NavyWhite-01-e1586189748878.png
Thomas BIDAUX
2016-07-20 13:19:21
2016-07-20 13:19:21
Pokémon Go media coverage is truly insane - analysis