For almost seven years, part of my job in the video games industry has been to look at, analyze and predict review scores of games. I've done this for a variety of different clients, from my previous employer EA to a host of smaller and bigger indie developers. At ICO, we have quite a bit of experience and knowledge in supporting game launches. Whenever a release of a game comes close, one of the things that always pops up, without fail, is Metacritic and review scores.
Quite a lot of times, we are answering the same questions and dispelling the same myths. That's why I thought it would be nice to have all those answers in a handy, online guide. If you use or are interested in Metacritic, the following Six Tips to Get a (Better) Metacritic Score might be for you.
Before we start, a little disclaimer. We won't be talking about the ramifications of a review score, or if they are really necessary, or if we should just use user or Steam reviews instead. We also won't be talking about that other excellent aggregated score platform, Opencritic.  With that out of the way, let's begin.
Why Care About a Metacritic Score?


Well, why should you care about Metacritic? First off, regardless of whether you think Metacritic is relevant or not, it shows up in some interesting places: for instance, on the Steam store page of a game, as well as in Google results if you search for a specific title. And, of course, it is still relevant if your client, employer or publisher cares about it for internal accountability or development milestones.  
Depending on the genre, platform, type of outlet and popularity of a game, an AAA title can see over 100 critic reviews on Metacritic, but the vast majority of the games will only be reviewed by a handful of outlets. In most cases, indie games won't get a Metascore at all.
That's a shame because there are some relatively easy tricks to get listed and to boost the number of review scores.
Tip 1: Understand how Metacritic works

Information on how Metacritic works is readily available and can be found on for instance on the official website.To lift their own description from the site itself:
"To put it simply, a METASCORE is a weighted average of reviews from top critics and publications for a given movie, TV show, video game, or album."
If you delve a bit deeper, a couple of important details, easily overlooked due to their simplicity but important nonetheless, start appearing:
A game

needs 4 reviews to receive a Metascore

.

If your game is multiplatform,

each individual platform will need a further four scores

before a Metascore for that platform is listed.

Reviews are never counted twice

across the platforms.

Metascores

change their colour

from acclaimed green to yellow at 75, and from yellow to that fearful red at 50.  

A Metascore

stabilizes around 20 reviews

. Before this happens, every new score added can change the aggregated Metascore pretty significantly.
Tip 2: Find out what Metacritic listed sites are out there
Actually, Metacritic provides an official list, which you can find here. It is easily overlooked but tells us which outlets are in the system. It gives the developer, publisher, or PR agency quite a bit of agency because it's from this list of accredited media the aggregated scores are pulled from. Take a closer look and you'll find the following:
The total list contains roughly

170 different game websites

, from the well-known IGN to Spanish big hitter Meristation and renowned general interest news site, The Guardian. There are also some other general interest media such as the Washington Post or the New York Times listed, but these only are relevant for the biggest of titles.  

There is

no country listing

, but at a glance, it's easy to see that the vast majority of the media listed are English speaking. There are currently around

70 European media listed,

not accounting for English outlets which publish both in the UK and USA.

Some websites don't provide scores

but are still listed, such as the venerable Rock, Paper, Shotgun, Kotaku or Eurogamer. They are shown on a game's page, but unprocessed and

don't add up to the final score

.
This line-up doesn't change often but it's worthwhile to check the list on a regular basis.
Tip 3: Choose your Metacritic targets accordingly
It's pretty obvious that if you want to have a Metacritic score, you'll only have to deal with those 130+ outlets which are listed on the site itself. Not only that, a fair number of these might not even be relevant to you for instance if they only cover mobile games (148Apps) or only cover Xbox titles (SomosXbox).
The main issue with not getting reviews has everything to with the limited amount of time and manpower most of these media have to cover new games. They are overworked, and at certain times of the year (E3, Christmas period) have all their time booked up by triple AAA titles weeks and weeks in advance. Finding a spot to check out a new game is a difficult undertaking for a critic, especially with the vast amount of games being released. For instance, Steam sees on average between 70 to 120 titles launching every week.
By the way: did you know that at ICO, we have a free weekly newsletter which will show you all the weekly Steam releases? If you are interested, don't hesitate to follow this link and subscribe.
Tip 4: Focus on the right Metacritic-friendly countries
Research the list and concentrate your effort. Certain countries are under-represented while others have a greater proportion of their outlets featured. Case in point: France versus Italy, with the former only having 2 smaller, Metacritic-listed websites (Gameblog.fr and JeuxActu) while the latter has 7 (Eurogamer.it, Everyeye, The Games Machine, Spaziogames, etc.)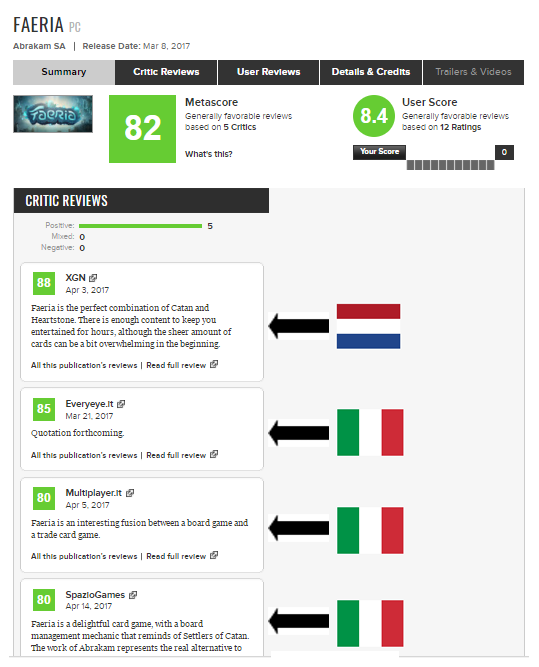 Smaller media in smaller countries are way easier to reach out to. They have a much a higher chance of being able to spend some time reviewing a game flying under the radar.
Tip 5:  Remind the media
One of the reasons that there is a discrepancy in the number of high-profile critics for each country on Metacritic is that most of the traffic on the platform is English. Accredited media outlets must submit their own score, plus a written summary in English, to be included on the site. This clearly decreases the incentive for other-language based media to receive the fruits of Metacritic (more traffic, more clicks).
What this also means is that media outlets sometimes review a game but forget to submit their score. If they've reviewed your game but the review is not yet on Metacritic: give them a gentle nudge and a friendly reminder, and more likely than not, they will update their review on Metacritic.  
Tip 6:  Don't try to change a score
It will happen that reviews will come in with a score that feels unfair. What also happens is that a review can read positively, but the score doesn't correspond. Also, when you have a multiplatform release, you don't know under which platform certain scores will appear. All these things can have an effect on the Metascore and one thing we notice with the above concern is that developers or publishers always want to do something about this.

Instead of just saying it, better to use the power of the GIF in combination with one of the greatest animated series to underscore this tip. 
Truth be told, there is little to be done. For instance, most critics specifically list which platform a game was reviewed upon (and this will be duly reflected on which platform the score will appear).
The following is a bit bleak but deserves to be mentioned. Asking a media outlet to change a score is a big no-no. The same goes for asking Metacritic to switch scores around. If you update a game after it's release, expecting an update on a score, it won't happen. Once an outlet submits a score, it will remain.
Who can forget Polygon's glowing review of 2013's Simcity, a resounding 9.5 which was duly posted to Metacritic? One of the first out of the gate, the review got published before the game had launched, but after server problems snowballed out of control and the game saw some very harsh criticism, Polygon changed their review score not once, not twice, but three times before settling on a final score of 6.5. The original review on Metacritic never changed, as the site's policy is to only accept a publication's first score. When a score hits Metacritic, it sticks.
Final thoughts
Boiling it down to a tl;dr section, we would finish off by condensing the above into a few supertips:
Supertip 1: Do your homework on which Metacritic-approved media outlets you'd like to target.

Supertip 2: Try to get at least 4 scores in order to get listed.

Supertip 3: Reach out to smaller media in non-English-speaking countries.

Supertip 4: Focus on websites that take an interest in the genre or specific platform of the game.

Supertip 5: Don't forget to remind media outlets to post their reviews on Metacritic.

Supertip 6: Don't try to change a score.
https://icopartners.com/newblog/wp-content/uploads/2017/05/Metacritic-Scorebrack.png
256
710
Stephan Meijerhof
https://icopartners.com/newblog/wp-content/uploads/2020/04/CRUSHCREATIVE_ICO_BRANDING_LOGO_NavyWhite-01-e1586189748878.png
Stephan Meijerhof
2017-05-10 12:09:34
2017-05-10 12:11:48
Six Tips to Get a (Better) Metacritic Score