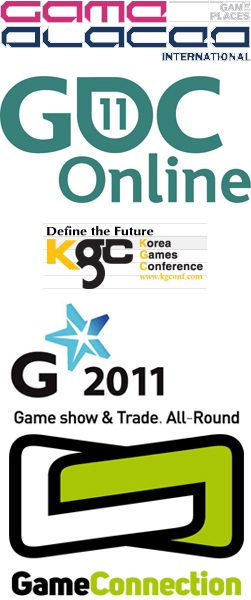 Between now and the end of the year, we will be attending a number of events across the globe where you can meet with us. And starting as early as this week.
27th of September, Frankfurt – Gameplaces
Diane will be speaking there, specifically on games and investments.
10th to 13th of October, Austin – GDC Online
This is an usual rendez-vous for us as we will be meeting with partners as well as sitting in sessions, checking for the trends of the online space.
7th to 9th of November, Daegu – KGC 2011
I (Thomas) will be speaking at KGC 2011, ahead of the Gstar. I present a general overview of the European market for online games. And (hopefully), it should the opportunity for us to update the aging presentations we have on slideshare on that topic.
10th to 13th of November, Busan – Gstar
We will have a booth in the B2B area of the Gstar. More details on this when we are closer to the date, but you can expect that if you want to meet us, it will be easy.
6th to 8th of december, Paris – Game Connection Europe
Another of our regular haunts, we have just confirmed that we will be there again. The event has moved to Paris (an excellent move in my opinion) and now also has a conference component. If you are not familiar with the event format, just think speed dating between publishers, developers and service providers  of the games industry.
https://icopartners.com/newblog/wp-content/uploads/2020/04/CRUSHCREATIVE_ICO_BRANDING_LOGO_NavyWhite-01-e1586189748878.png
0
0
Diane
https://icopartners.com/newblog/wp-content/uploads/2020/04/CRUSHCREATIVE_ICO_BRANDING_LOGO_NavyWhite-01-e1586189748878.png
Diane
2011-09-26 10:40:33
2014-10-01 15:52:05
Events - end of 2011