On the 13th of May, Kickstarter officially launched in Germany. In just eight days, the service will officially launch in France.
I went back to my data and looked out some numbers on the historical Kickstarter performance for creators from these countries. If anything, it paints an interesting "before" picture to compare to once we get to the "after" period.
Bear in mind that before Kickstarter is available in a specific country, a series of complex hoops had to be jumped through in order to put a project on the platform. A couple of points to keep in mind:
There are a number of projects that are mislabelled on Kickstarter and  listed as American or Canadian while the company developing the project is indeed from another country. Like when (French developer) Ankama went through its Canadian subsidiary for this project (so it doesn't appear as French in my data):

There are a lot of projects that couldn't – or didn't want to – jump through those hoops. A number of them just passed on crowd funding, while others just went to a platform more accessible to them. Like when Frederick Raynal's Gloomywood went to Ulule to get funding for its game 2Dark (they won't appear either as I purely track Kickstarter at the moment):

Kickstarter across all categories
While I have relied on the data we regularly collect, each country's profile is available through the Advanced Search pages on Kickstarter: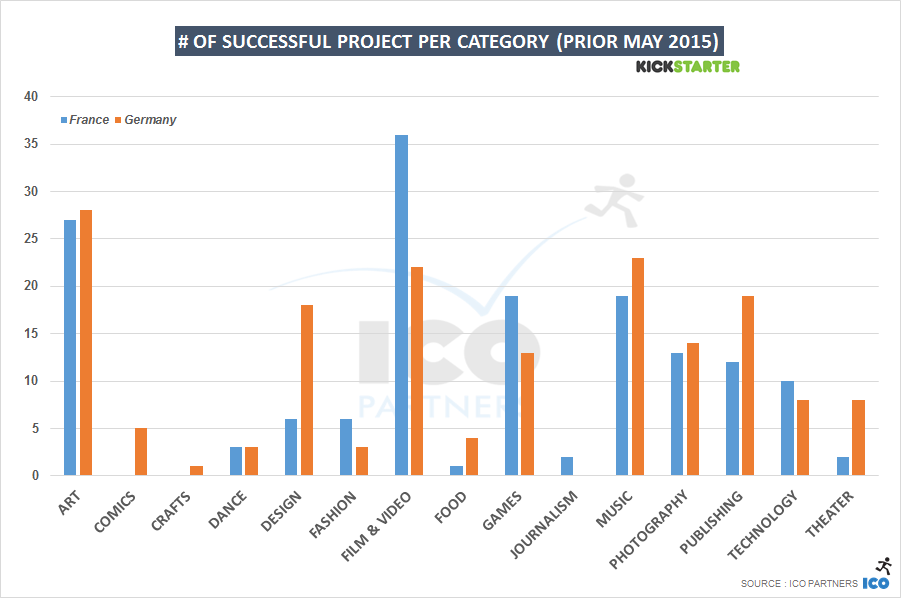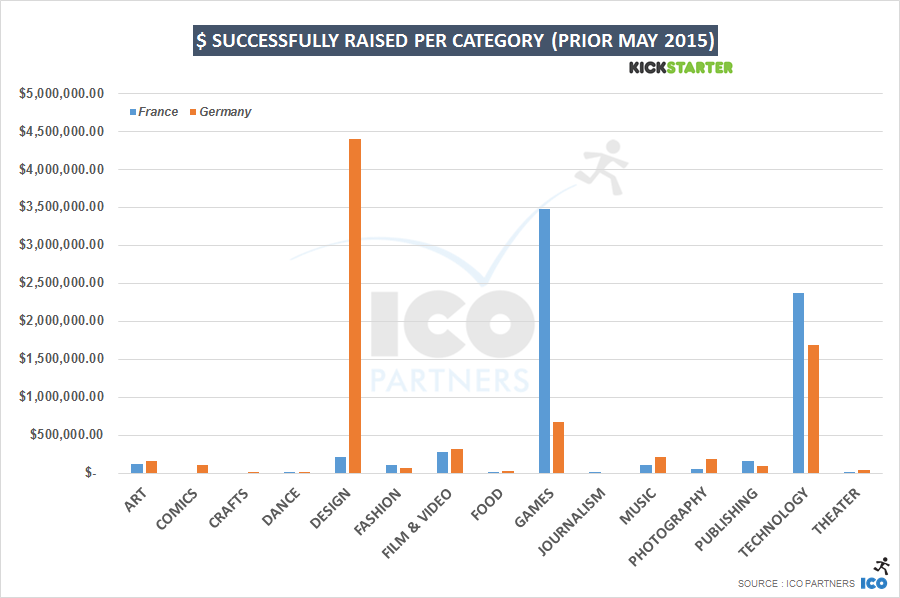 Looking at the number of projects funded, Germany and France seem pretty much on par (156 funded French projects for 169 funded German projects); and this holds true on the total amount raised as well, with around $7m in France for $8m in Germany.
The category spread is very different though. Both countries have a similar amount of success with Technology projects, but the Wireless Smart Headphones excellent success in Germany accounts for close to half the money ever raised in the country:

I will look into the Games category more in depth later.
Another interesting comparison I ran was on their relative success to failure ratio: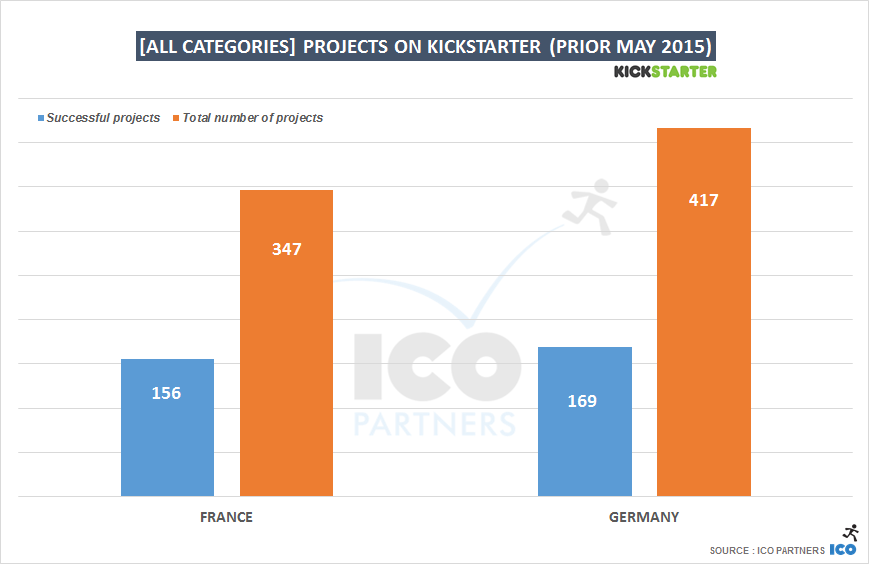 The success ratio in France has been around 45% against 40% in Germany. I find that very intriguing – and suspect that Germans are possibly more entrepreneurial than the French; however, the announcement for Kickstarter opening in Germany has been a lot less shared than the French announcement (double the number of shares on Facebook and about 15 times more on Twitter). It may be that the French were waiting more patiently for an official local version of the platform.
Games projects
  
I was surprised to see France ahead of Germany in the Tabletop Games category, when Germany is such a big market for those games. It may be they have a more solid infrastructure for creators, making crowdfunding a less prominent avenue.
On the video game front, France has had quite a few successes, and while they didn't have any mega hits, there were five projects raising more than $100,000.
In Germany, there has only be two projects that have been able to raise more than $100,000, despite a larger number of projects launching on the platform.
In a few months, I will check to see the impact of Kickstarter opening locally for a future blog post.
At the moment, from the projects that launched in Germany, PVP MMO Das Tal is currently leading the charge:

https://icopartners.com/newblog/wp-content/uploads/2014/03/kickstarter_header.png
256
710
Thomas BIDAUX
https://icopartners.com/newblog/wp-content/uploads/2020/04/CRUSHCREATIVE_ICO_BRANDING_LOGO_NavyWhite-01-e1586189748878.png
Thomas BIDAUX
2015-05-19 16:54:50
2016-12-28 06:24:43
Kickstarter in France and Germany